Adventure Tours – Explore More!
Explore the green rice paddies of Vietnam, wind through the vineyards of Croatia, and experience colourful Cuba – all on two wheels and powered by your own legs (and perhaps the occasional local treat!)
For some people, a holiday should be a blend of sun, sea and suitably chilled cocktails. For others it's about getting off the beaten track, having real life experiences and meeting fascinating local people. And then there are those who want to experience all of the above from the saddle of a bike, floating downstream in a kayak, or whilst hiking in the world's best natural parks.
That's where Intrepid's Active trips come in. Whether you want to keep fit whilst travelling, challenge yourself on the highest peaks, or see the world at a slower pace, there's an Active holiday to suit every level.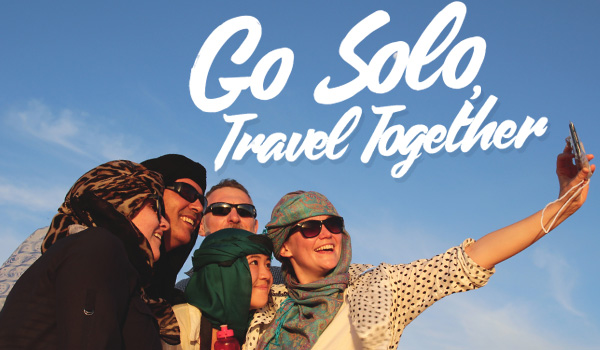 It's time to give solo travel a try with Intrepid. Travel alone on a group tour with Intrepid and get expert local leaders to show you around, ready-made friends who are itching to explore (just like you), and all the nuts and bolts taken care of. The only third wheel on these new adventures will be the one on your rickshaw. Destinations include India, Morocco, Columbia, and more!
There are some places on Earth that make it into most people's Top 10 but most travellers have never even been to these spectacular destinations. So if you want to be dazzled on your next holiday, look no further than these beautiful countries.

Savouring the sizzle of spicy Sri Lankan Kotthu Roti, eating fresh-cooked linguine by the Italian seaside, sipping ginjinha with the locals in Lisbon? sometimes the best way to discover a place is to taste it.
That's where our Real Food Adventures come in: authentic, locally led holidays served with a large helping of the freshest produce, tastiest street eats, and unique food traditions.
Uncover a world of authentic, mouth-watering food tours & travel designed to suit any budget, appetite and time frame. By pairing the classic grassroots Intrepid travel style with a special food focus, our itineraries aim to really get you under the skin of the world's most exciting food cultures, be it chomping a trail through Thailand's food markets, whipping up Peruvian delicacies under the tutelage of world-class chefs or touring Tuscan vineyards.
These are real-world experiences with a foodie twist: one part culture, one part adventure and three parts delicious. From bite-sized trips to gastronomic odysseys, we'll get you munching, crunching, sipping and slurping just like the locals!
When it comes to travel, how would you sum up your year? Did you discover that wonder of the world you've always talked about, explore those little-known Italian villages, or travel solo like you've always wanted to? We've compiled a list of the most popular trips of 2018, and there are a few surprises in there.