Christmas Markets – Save up to 20%
It's the most wonderful time of the year! Take a sleigh ride and jingle all the way to some of the best Christmas markets in Europe and save up to 20% & choose from a selection of 3 and 4 star hotels in Berlin, Dusseldorf, Prague, Nuremberg or Vienna for stays in December! Book Now Pay Later & Free Cancellation on most rates. Plus receive Loyalty Points with every booking!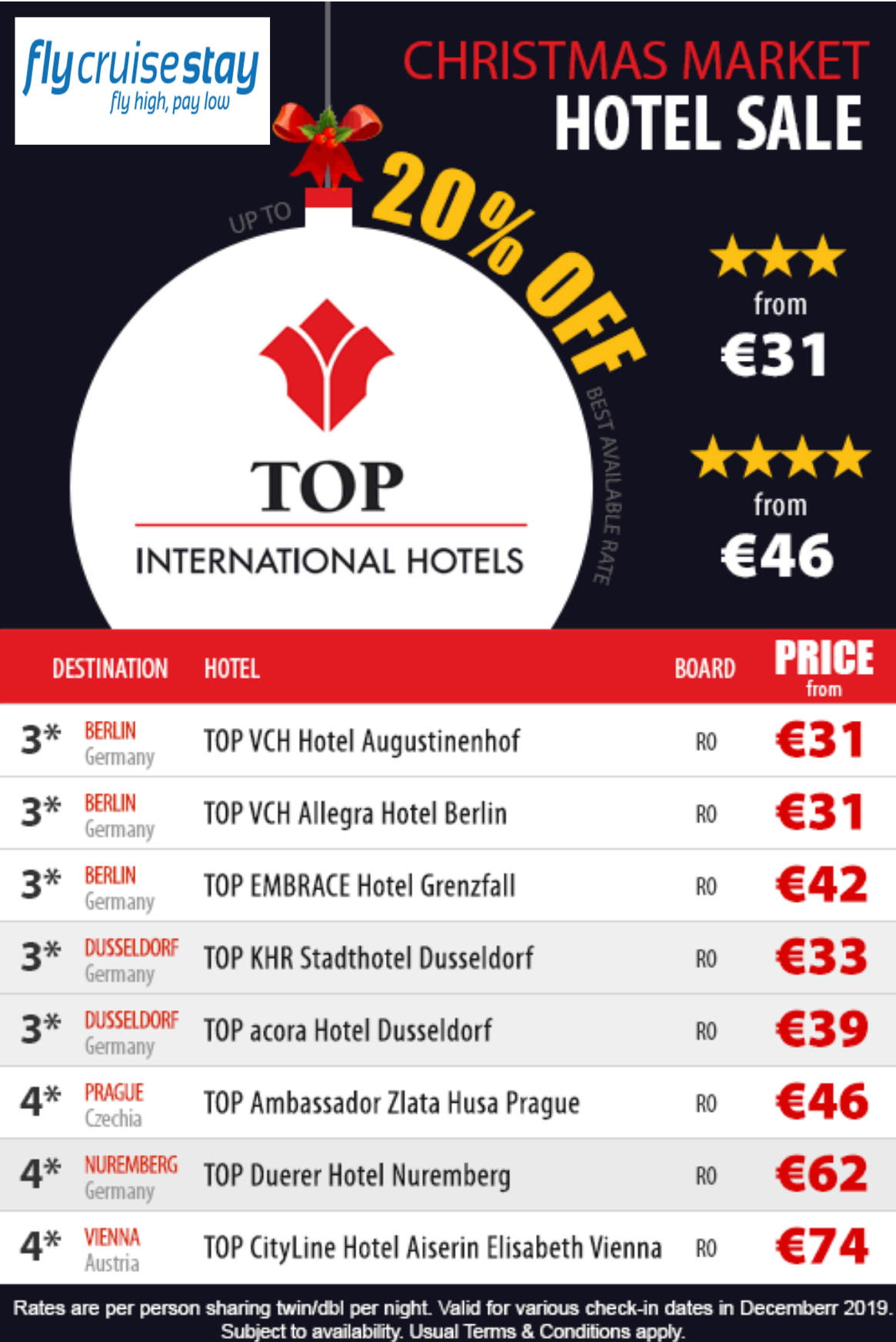 Berlin
3* Top VCH Hotel Augustinenhof, Book Now
3* Top VCH Allegra Hotel Berlin, Book Now
3* Top Embrace Hotel Grenzfall, Book Now
Dusseldorf
3* Top KHR Stadthotel Dusseldorf, Book Now
3* Top Acora Hotel Dusseldorf, Book Now
Prague
4* Top Ambassador Zlata Husa Prague, Book Now
Nuremberg
4* Top Duerer Hotel Nuremberg, Book Now
Vienna
4* Top CityLine Hotel Aiserin Elisabeth Vienna, Book Now
All offers valid for various dates in December 2019. Subject to availability. Usual terms and conditions apply.
Check out whats hot in Sports, Shows, Tours, Attractions & Events in Berlin, Dusseldorf, Prague, Nuremberg & Vienna! Reserve Online & Collect at the Box Office! Book Now
Sleigh ride broken and need a flight? We've partnered with Skyscanner to find you the best fare! Book Now