Viking Ocean Cruises Is An Instant Hit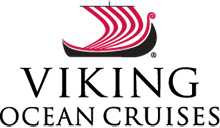 Book Viking Ocean Cruises Now!
Viking Ocean Cruises is one of the world's newest ocean cruise lines — and one of the best. In fact, Travel + Leisure readers recently voted Viking as the #1 Ocean Cruise Line. Award-winning service ensures that you'll be treated warmly. Viking Ocean ships are much smaller than the usual mega ships. That means you can travel to smaller, more exclusive ports — and begin your excursions faster.

In fact, a shore excursion is included in every port. You can forget about having to open your wallet and just focus on fun. Viking Ocean Cruises includes lots of extras, like access to the highly-rated spa and specialty dining.

Aboard your ship, there are wonders to enjoy. Feel at one with the sea in an infinity pool while gliding to your next port. Take in works by Scandinavian artists or relish MET Under the Stars, live performances by the Metropolitan Opera. Melt stress away in the thermal pool or sauna, or just watch the waves roll from your private veranda.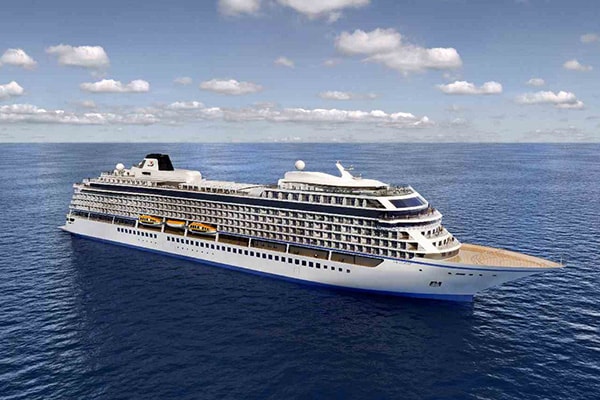 Enjoy the Award-Winning Viking Jupiter Book Viking Jupiter Now!
Luxury comes standard on Viking Jupiter. Every stateroom includes a private veranda with heated bathroom floors, robes, and premium Freyja® toiletries. The Viking Living Room is a premium way to relax, complete with Steinway piano and live, classical trio. Like to read? Check out the curated collection at the Viking Library, a cozy, peaceful nook.
Scandinavian-inspired spa services are all the rage at the world-class spa aboard Viking Jupiter. Experience snowflakes drifting down from the ceiling in the tranquil Snow Grotto, then take a dip in the plunge pool or detoxify in the sauna.
Like to be entertained and enriched at the same time? You can see TED Talks, destination-inspired performances, and HD movies at The Theatre aboard Viking Jupiter. Breakfast, lunch, and dinner are served in The Restaurant, which offers floor-to-ceiling windows for beautiful light, and extraordinary cuisine, of course.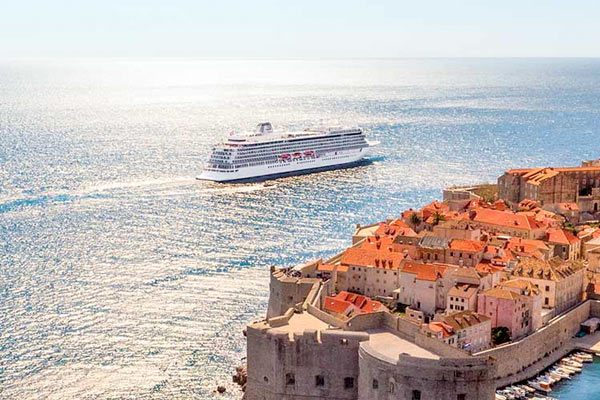 Enjoy an all-inclusive premium cruise aboard Viking Sea Book Viking Sea Now!
Take the guesswork out of planning an upscale cruise vacation by choosing the Viking Sea. Every stateroom has a verandah, so you're sure to enjoy breathtaking ocean views with a breeze. Casually elegant Scandinavian design complements the superior service, both hallmarks of Viking Ocean Cruises.

From the very first deck of the Viking Sea, amazing amenities await. Replenish your spirit in the spa, then feast Italian-style at Manfredi's restaurant. Deck 2 delights with two cinemas and the theater, plus continental cuisine at The Restaurant. Deck 7 could just be your favorite, since it features an infinity pool, two hot tubs, indoor and outdoor eateries, a main pool that plays movies at night, and the popular Explorers' Lounge.

Rest assured, there's always something incredible to do or dine on aboard the Viking Sea. With at most 930 guests, you'll find it easy to mix and mingle or just have plenty of space all to yourself.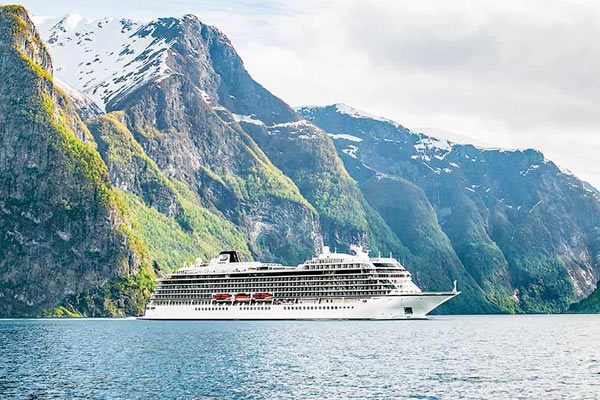 Aboard the Viking Sky, the Sky's the Limit Book Viking Sky Now!
Get ready to indulge your senses on an ocean cruise aboard the Viking Sky. Hosting at most 930 guests, this intimate ship in the Viking Ocean Cruises fleet boasts a verandah with every stateroom, and manages to offer an impressive selection of culinary, leisure, and enrichment options from bow to stern.

When you're not docking at smaller, more exclusive ports of call, life aboard the Viking Sky is not just a breeze, but an eye-opening adventure designed to mirror your itinerary's unique cultural highlights. Immerse yourself in the local historical lore, traditions, art, music, and flavors with educational classes, shows, and reading materials from the comfort of your cruise ship. For a bigger bite of indigenous dishes and intercontinental fare, get your fill in The Restaurant and World Café. Of course, there's always al fresco venues like poolside grills.

Speaking of pools, you'll find plenty of places – all designed with elegantly simple Scandinavian style – to relax and have fun. Wade all day rain or shine in The Main Pool thanks to its retractable roof, then return at night for a starlit poolside movie. Unwind in the award-winning spa or the Infinity Pool, or meet up at the Explorers' Lounge to discover incredible views before catching a show in the theater.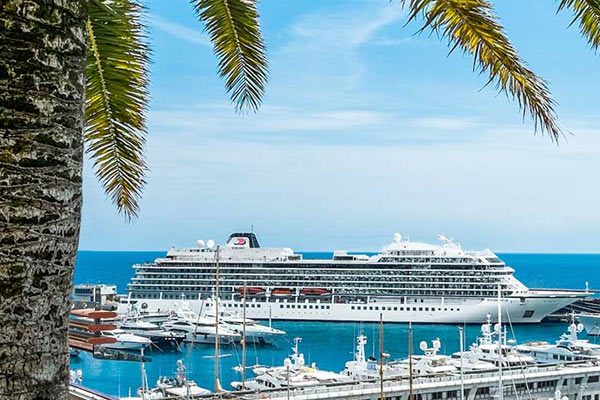 Experience Total Luxury on Viking Spirit Book Viking Spirit Now!
Passengers sailing aboard the 930-guest Viking Spirit are wowed by many features on the vessel. For example, the huge screen in the atrium rotates Norwegian photography and works by Edvard Munch. The spa offers a host of Scandinavian treatments, including Swedish massages. Want something different? Heat up in the sauna, then slip into the snow grotto, an invigorating treatment room where snowflakes actually drift down from the ceiling!
As you sail aboard Viking Spirit, take in live music and a cocktail in the Viking Living Room or dance the night away in Torshavn. The Theater offers HD movies and TED Talks, too.
If you like to stay active, Viking Spirit offers the main pool, fitness center, walking track, and sports deck. Hungry? Dine at spots like Mamsen's, Manfredi's Italian Restaurant World Café, and The Chef's Table, or enjoy afternoon tea at Wintergarden.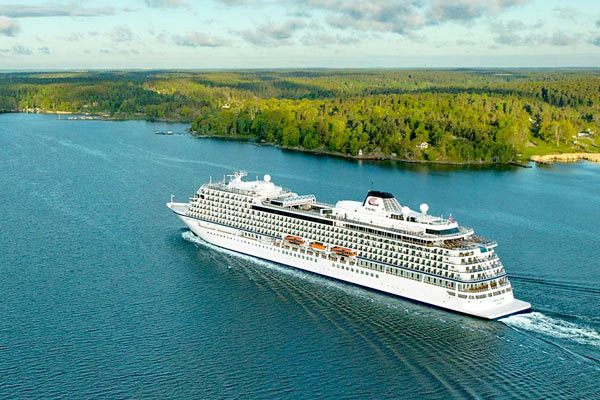 Feel Like a Star aboard the Acclaimed Viking Star Book Viking Star Now!
It's no coincidence the Viking Star became an award-winning ocean liner in its inaugural season. As the star of the Viking Ocean Cruises fleet, she garnered 5-star ratings and accolades for being the best new cruise ship from everyone from Cruise Critic to CNN. Ready to discover the amenities that earned Viking Star the limelight?

Minimalist-chic Scandinavian décor and impeccable service set the stage for unforgettable experiences throughout the Viking Star. Delight in delectable specialty dishes from your ports of call and beyond, with spectacular vistas from The Restaurant or al fresco at Aquavit Terrace, just to name a few venues. Pamper yourself with trips to the sauna, Snow Grotto and spa, then it's time for rejuvenating tea and conversation at Wintergarden. Naturally, there are fantastic pools, including the indoor/outdoor, movie-playing, and infinity variety.

That's just a taste of the entertainment at sea though. An assortment of live shows, educational lectures, musical revues, and much more will wow you in the Viking Star's main theater. In fact, there's a whole curriculum of classes to highlight the history, customs, and art you can expect in each destination. Last, but not least, when you've had your fill of fun each day, stargaze from your sophisticated stateroom verandah before dozing off to dream about what adventures await you tomorrow.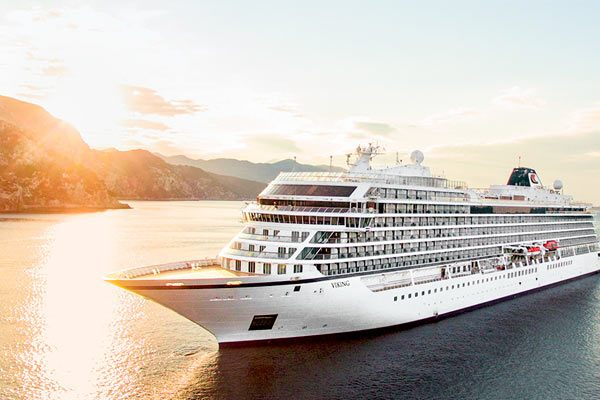 Expand your vacation horizons aboard Viking Sun Book Viking Sun Now!
Chart a course for understated elegance aboard the Viking Sun. As one of just 930 lucky guests, you can start every morning by breathing in the refreshing ocean air from your stateroom verandah. The grand views continue at the Infinity Pool, which extends over the ship's stern, and at the Main Pool, which runs movies by starlight.

After feasting your eyes on passing scenery or closing them during a massage at the award-winning spa, dig in at the Viking Sun's myriad dining venues. From the Italian favorites at Manfredi's restaurant to exquisite global cuisine at the World Café, there's always something tempting for your taste buds. For lighter fare, stop by a poolside grill or Wintergarden for traditional tea.

No voyage would be complete without entertainment and enlightening activities, and this is where Viking Sun really shines. You can enroll in a bevy of enrichment classes for a deep dive into the culture of each port of call. Prefer to just set your brain on cruise control? Kick back in the main theater's sofa seats for everything from first-run films to live variety shows, or savor your favorite libations with live piano tunes in Explorers' Lounge.