See the Wonders of the World With Princess Cruises
Princess Cruises has won over legions of devoted travelers with their award-winning service, great value, and enrichment opportunities. One thing that makes Princess the princess of cruise lines is the fascinating activities through the Discovery at Sea program: Discovery, Animal Planet, and the Science Channel have teamed up with Princess Cruises to provide educational opportunities like the chance to learn stargazing or go on a nature tour.
Why do families choose Princess? Cruise lines often offer kids' clubs and waterslides, but Princess Cruises has activities like the Deadliest Catch crab bucket challenge! Make shark tooth necklaces during Shark Week at Sea, or take an Animal Planet shore excursion or even an underwater tour to see the destination's wildlife up close.
Whether you're looking for an extended world cruise or a short weekend getaway, Princess cruise deals can be found for any destination. Princess can take you to all of the wonders of the world in comfort!
| | | | | | | | | |
| --- | --- | --- | --- | --- | --- | --- | --- | --- |
| Ship | Rating | Launched | Pax | Crew | Pools | Bars | Casino | Kids Programs |
| Caribbean Princess | | 2004 | 3,100 | 1,200 | 5 | 11 | Yes | Yes |
| Coral Princess | | 2003 | 1,970 | 900 | 4 | 9 | Yes | Yes |
| Crown Princess | | 2006 | 3,080 | 1,200 | 4 | 11 | Yes | Yes |
| Diamond Princess | | 2004 | 2,670 | 1,100 | 4 | 11 | Yes | Yes |
| Emerald Princess | | 2007 | 3,100 | 1,200 | 6 | 11 | Yes | Yes |
| Enchanted Princess | | 2020 | 3660 | 1346 | 4 | 11 | Yes | Yes |
| Golden Princess | | 2001 | 2,590 | 1,200 | 4 | 11 | Yes | Yes |
| Grand Princess | | 1998 | 2,594 | 1,200 | 4 | 10 | Yes | Yes |
| Island Princess | | 2003 | 2,214 | 900 | 4 | 9 | Yes | Yes |
| Majestic Princess | | 2017 | 3,560 | 1,346 | 2 | 11 | Yes | Yes |
| Pacific Princess | | 1999 | 680 | 350 | 1 | 6 | Yes | Yes |
| Regal Princess | | 2014 | 3,560 | 1,346 | 3 | 12 | Yes | Yes |
| Royal Princess | | 2013 | 3,600 | 1,346 | 3 | 12 | Yes | Yes |
| Ruby Princess | | 2008 | 3,080 | 1,225 | 5 | 11 | Yes | Yes |
| Sapphire Princess | | 2004 | 2,670 | 1,100 | 4 | 11 | Yes | Yes |
| | | | | | | | | |
| Sky Princess | | 2019 | 3660 | 1346 | 5 | 10 | Yes | Yes |
| Star Princess | | 2002 | 2,600 | 1,100 | 4 | 12 | Yes | Yes |
| | | | | | | | | |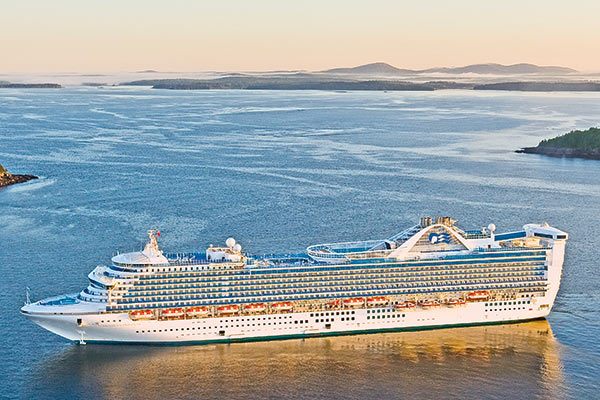 The Caribbean Princess Reigns
Book Caribbean Princess Now!
The Caribbean Princess sails the Caribbean Sea, of course. This vessel offers tastefully decorated, comfortable staterooms. Play a few rounds at the casino and catch some soothing live music while sailing to jaw-dropping islands.

Enjoy first-run movies under the stars on the Caribbean Princess, complete with cushy lounger and free popcorn. Hang out in The Sanctuary and get a massage in your outdoor cabana. A variety of lounges and bars are at your disposal for a nightcap or anytime drink.

If you like traditions, you can participate in traditional dining on the Caribbean Princess. You can also choose from a number of casual spots and specialty restaurants. Indulge in a sizzling steak or delectable seafood at the Crown Grill. Craving Italian? Sabatini's dishes up top-notch pasta and maritime creations.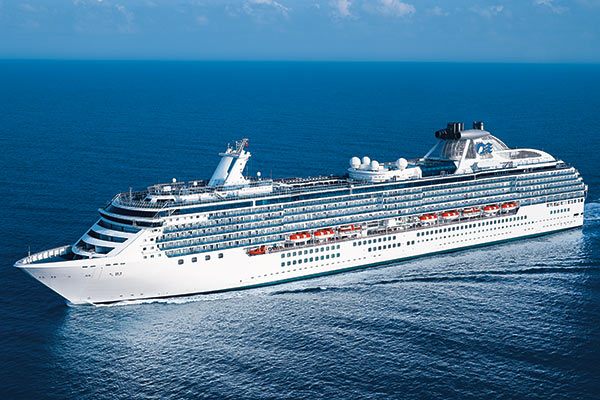 You'll Feel Royal on the Coral Princess
Book Coral Princess Now!
Ninety percent of staterooms on the Coral Princess offer ocean views. To take advantage of the incredible views, this ship boasts 700 balcony staterooms.

After an excursion, settle into a cushy lounge chair for first-run Movies Under the Stars. You'll enjoy free freshly popped popcorn, too. When you enter The Sanctuary, you can expect peace and quiet — and even a massage if you're in a cabana.

When it's time to dine, the Coral Princess offers the Bayou Café and Steakhouse, the pride of the ship. This restaurant serves mouthwatering cuisine inspired by the spices of New Orleans. As a bonus, you'll enjoy a live jazz band while digging into your jambalaya or gator ribs. Or relive the Golden Age of cruising with afternoon tea on the high seas.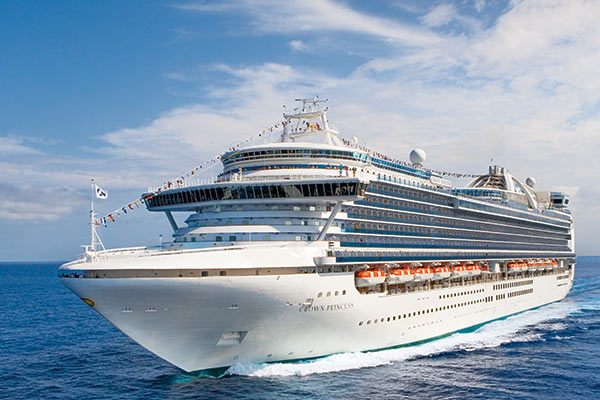 Feel Like Royalty on the Crown Princess
Book Crown Princess Now!
The Crown Princess sports nearly 900 balconies to make the most out of your cruise. Imagine enjoying a hot breakfast on your private balcony as you sail to exotic locales. Don't miss Movies Under the Stars, where you'll enjoy freshly popped popcorn in a cushy lounge chair.

A wide variety of dining options, lounges, and bars aboard the Crown Princess means you'll never get bored with the menu. Dine anytime in the Michelangelo or Da Vinci dining rooms; or if you like traditional meals, Botticelli awaits. A host of casual and fine specialty restaurants, cafes, and even afternoon tea round out the palate on your Crown Princess cruise.

When the sun sets, enjoy a nightcap in Crooner's Bar or try your luck in Gatsby's Casino. If you're in the mood for a show and a drink, Explorers Lounge awaits. There's also the dazzling Skywalkers Nightclub and Club Fusion.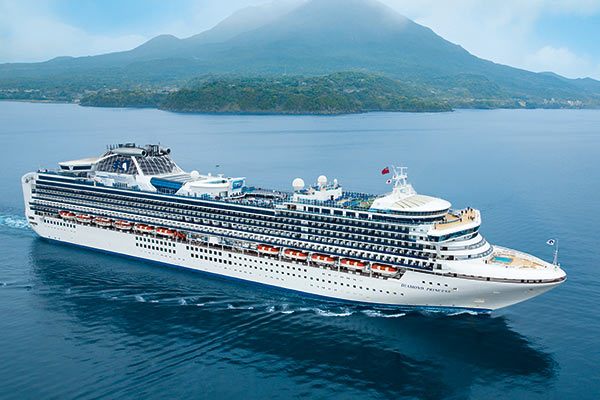 The Diamond Princess Welcomes Every Member of Your Family
Book Diamond Princess Now!
As you sail toward your next exciting port, the Diamond Princess has something fun in store for every member of the family. Kids and teens have their own hangouts and activities, such as pajama nights, pizza parties, and even karaoke!

When it's time to dine, the Diamond Princess offers an array of cuisine that can be found throughout the ship. Sabatini's is the popular Italian restaurant where everyone goes to for fresh pasta and seafood. Cut into a prime cut at Sterling Steakhouse or go for sushi at Kai. If you crave poolside pizza, sundaes, or burgers, you're in luck.

Miss something at your local cinema? Watch first-run films in the theater on the Diamond Princess — or on the top deck from a lounge chair at Movies Under the Stars. If you need a little quiet, The Sanctuary is an exclusive getaway for adults.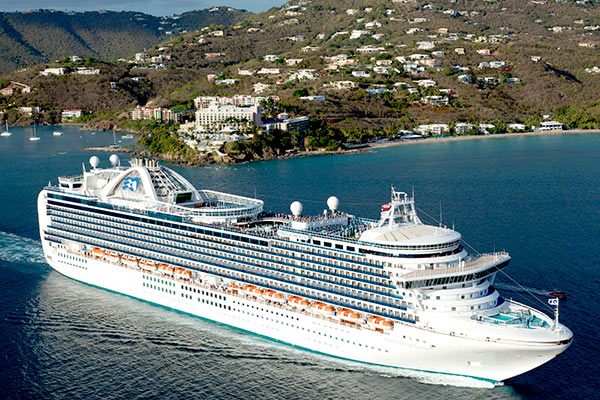 Exquisite Dining is Yours on The Emerald Princess
Book Emerald Princess Now!
With nearly 900 balcony staterooms on the Emerald Princess, you're assured a fantastic view. Plus, the ship's friendly personnel can arrange for a romantic four-course meal on your private balcony. You'll have your own dedicated wait staff as you indulge in surf and turf and other mouthwatering options.

Fine dining isn't the only meal choice on the Emerald Princess. The International Café and Vines wine bar pours exquisite vino and grills warm paninis. Or dig into authentic Cajun and Creole cuisine at the Bayou Café. For something special, the Chef's Table offers exquisite dining, galley tours, and a personalized copy of Courses, A Culinary Journey, Princess' best-selling cookbook.

After the sun goes down, the Emerald Princess welcomes you to enjoy first-run films at Movies Under the Stars. Or perhaps you'd like a massage at the Lotus Spa or a show. You can even get married at the onboard chapel!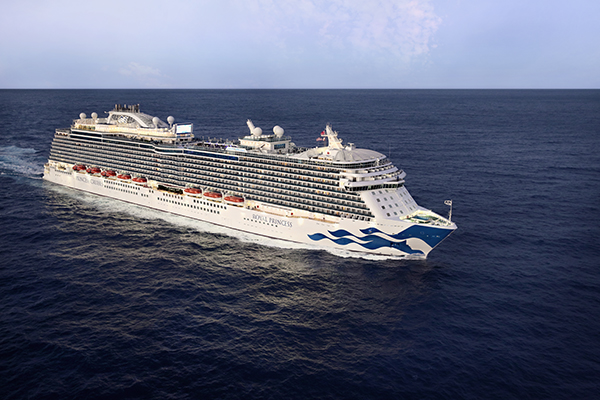 Experience Enriching Getaways on Enchanted Princess
Book Enchanted Princess Now!
Choose Enchanted Princess for your next cruise and you'll come home with many happy memories. Host a party in huge Sky Suites with 700-square-foot balconies. Luxurious beds ensure restful sleep, and when you want to spend a little energy, the pools and Sport Courts await. Stargaze at night, kick back with an Italian-inspired drink at Bellini's, or be enriched with one of the Discovery programs.
Want a thrill? Attend one of many shows aboard Enchanted Princess, such as a musical or live act from a featured guest performer. You can even take part in The Voice of the Ocean, an exciting singing competition. Of course, there's also Movies Under The Stars for when you just want to relax.
When you're hungry, Enchanted Princess offers endless options, from private, multi-course extravaganzas at Chef's Table Lumiere to The Salty Dog Gastropub. There's also a trattoria, steakhouse, and luxurious in-room dining on your balcony, too.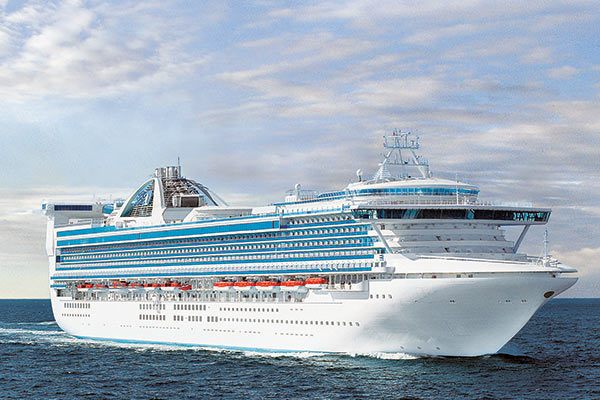 You're a VIP on the Golden Princess
Book Golden Princess Now!
The Golden Princess rivals first-class hotels around the world, with the added benefit of delivering you to several ports and countries! Indulge yourself by staying in a spacious mini-suite — with VIP touches and a private balcony. A suite offers: private dining room entrances, priority reservations, dedicated wait staff, exclusive menus, priority boarding and disembarkation, and more.

Dining on the Golden Princess is as casual or private as you like. For a special night, enjoy a four-course meal on your balcony. Sabatini's dishes up savory Italian cuisine, while the Crown Grill serves up perfectly cooked steaks and seafood.

After dinner, enjoy first-run feature films on the top deck of the Golden Princess with Movies Under the Stars. Need refreshing? The Lotus Spa offers a respite from a long, fun day exploring the world; steep in a hydrotherapy tub and then enjoy a soothing massage.
The Grand Princess is Sanctuary at Sea
Book Grand Princess Now!
The Grand Princess has been recently renovated, and sports a wondrous, Italian-inspired Piazza as the centerpiece of the ship. There, guests can view the impressive art collection, meet new friends, or "people watch" galore while sipping java from the International Café.

Hungry? A variety of dining options await you aboard the Grand Princess. Voted one of the "Best Wine Bars at Sea," Vines Wine Bar serves up savory, shareable plates with the vintage of your choice. If you're in the mood for a hand-tossed pie, Alfredo's Pizzeria awaits. Leaves Tea Lounge & Library offers an array of teas and snacks, and the Crown Grill dishes up fresh seafood, pasta, steaks, and more.

Dance your cares away at The One5, one of many hot spots aboard the Grand Princess. Enjoy first-run films with the whole family at Movies Under the Stars. If you seek tranquility, The Sanctuary is an adults-only oasis.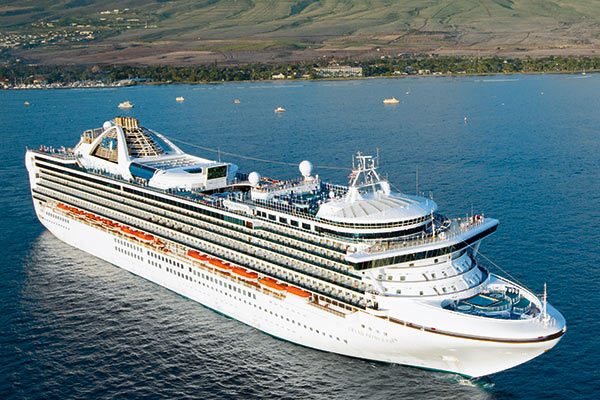 The Island Princess Reigns
Book Island Princess Now!
The Island Princess offers over 90% ocean-view staterooms with over 700 balconies to maximize your views.

If you love authentic Cajun and Creole cuisine, the Bayou Café and Steakhouse is straight from New Orleans. Plus, you'll enjoy soothing live jazz with that jambalaya. In the Island Princess dining rooms, you can settle in for a bite anytime or choose traditional dining. If you're in the mood for a special experience, private dining on your balcony is just a call away.

Want duty-free shopping on the Island Princess? It's yours. What else is there to do? Swim, peruse the art collection, head to the Lotus Spa, practice your golf swing, see live music, or enjoy first-run films with the family at Movies Under the Stars.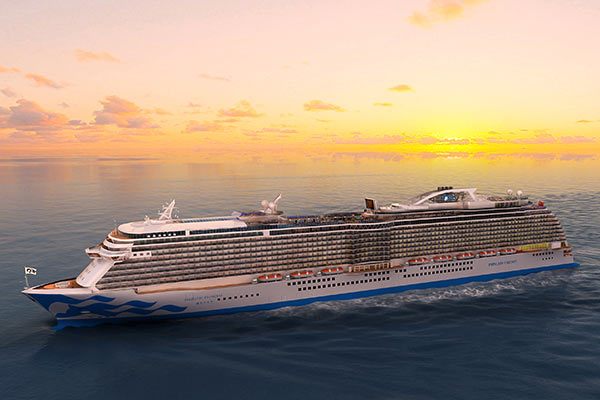 Outstanding amenities await aboard the new Majestic Princess
Book Majestic Princess Now!
The next level of royal treatment from Princess Cruises makes the new Majestic Princess extra special. You'll notice the sophisticated Chinese-style décor throughout the ship. In addition to finely appointed staterooms, many with ocean views or even balconies, there's a world of amenities everyone will love.

Recreation and entertainment options fill the Majestic Princess, day and night. Highlights include upscale brand shopping in the Atrium, stunning live theater, vibrant dance clubs, glamorous casino gaming, a pampering spa, and much, much more.

The restaurants are equally exciting aboard the Majestic Princess, naturally. Must-try dining experiences include the highly acclaimed Crown Grill, the French fare at La Mer, and the Chinese specialties at Harmony.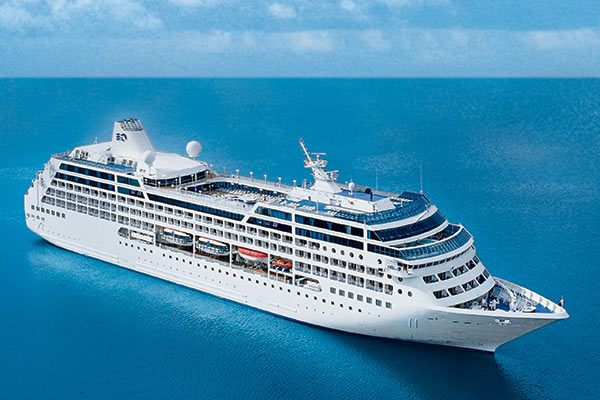 The Pacific Princess Rules the Pacific Coast
Book Pacific Princess Now!
The Pacific Princess offers fun for the whole family. Enjoy a first-run feature film at Movies Under the Stars from the comfort of your lounge chair. The lounges offer plenty of live music and nightcaps galore.

When it comes time to dine, the Pacific Princess has a wide variety of options for you. Go as casual as you like at the deck barbeque. Craving sweeping ocean views and prime cuts? Sterling Steakhouse has you covered. If you're in the mood for Italian specialties, Sabatini's dishes up fresh pasta and seafood.

There's a lot to see and do aboard the Pacific Princess. Enjoy a yoga class at the fitness center, practice your putting at the golf cage, or settle into a bubbling hot tub before a decadent massage at Lotus Spa. Go for a swim, peruse the duty-free shops, or if you're sailing with Lady Luck, try your hand at the casino.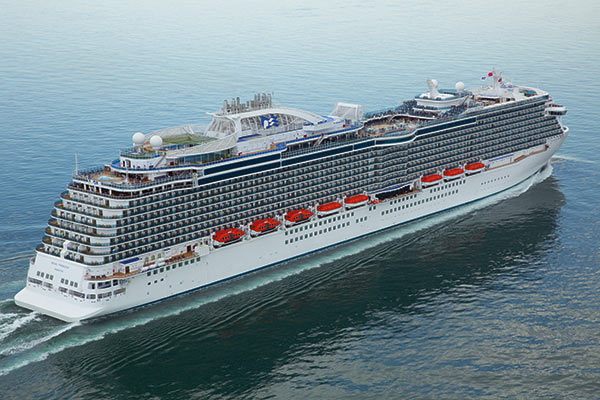 The Regal Princess Wows the Caribbean
Book Regal Princess Now!
The sister ship to the Royal Princess, the Regal Princess offers innovative and jaw-dropping features, such as The SeaWalk, a glass-bottom walkway. The beautiful Atrium & Piazza is over 50 percent larger than other ships in the Princess fleet. Keep in touch with your fellow travelers with the free Princess@Sea Messenger app.

Your Regal Princess cruise will become a Norman Love Chocolate Cruise Experience with chocolate spa treatments, desserts, and even chocolate wine tasting at Vines Wine Bar. There are lots of new dining options, like Ocean Terrace, the Atrium seafood bar, and Alfredo's which tosses Neapolitan pizza made to order.

Kids of every age will enjoy learning about the cosmos on the Regal Princess with Discovery Under The Stars, a stargazing experience brought to you by the Discovery Channel. Celebrate your island voyage with a steel drum lesson or dishes like jerk chicken or red snapper ceviche.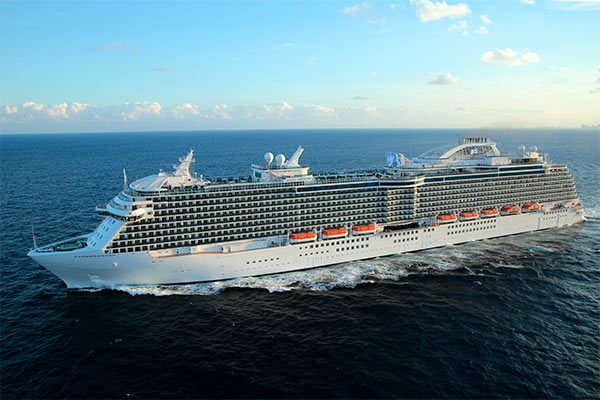 The Award-Winning Royal Princess Stuns with Amazing Features
Book Royal Princess Now!
Every outside stateroom on the award-winning Royal Princess boasts a balcony for the very best views at sea. Even the Movies Under the Stars screen is 30% larger than screens on other ships. Kids and teens have their own clubs and lots of activities, including a DJ booth, movie nights, and video game stations.

The Princess Watercolor Fantasy is aboard the Royal Princess; this means that during the evening, the pool area transforms into a dazzling sound and light show with dancing fountains! The glass-bottomed SeaWalk offers stunning sea views and lights up at night for romantic strolls.

The Royal Princess Atrium offers lots of casual spots to enjoy yourself. Dig into a creamy, cold concoction at Gelato, or sip on bubbly at Bellini's Bar while enjoying a Piazza performance. And then there are the expertly mixed martinis at Crooner's and the exciting maritime plates at Ocean Terrace Seafood Bar.
The Ruby Princess Rules at Sea
Book Ruby Princess Now!
The Ruby Princess has exciting options for everyone. Kids and teens have their own activities like pizza parties and pajama nights. Enjoy ice cream in the glorious Piazza while watching people stroll by. A number of duty-free shops and the onboard art collection will dazzle your eyes.

When it's time to dine on the Ruby Princess, a number of choices await. Share by Curtis Stone creates handmade pastas and carves premium meats. Dig into decadent rib eye burgers at The Salty Dog Gastropub, or take a seat at the exclusive Chef's Table for a multicourse meal, galley tours, and a personalized cookbook.

Try your luck at Gatsby's Casino or settle into a lounge chair for a first-run film with at Movies Under the Stars. Hear live music on the Ruby Princess in Explorers Lounge or trendy Club Fusion. The Lotus Spa will soothe away your cares at sea.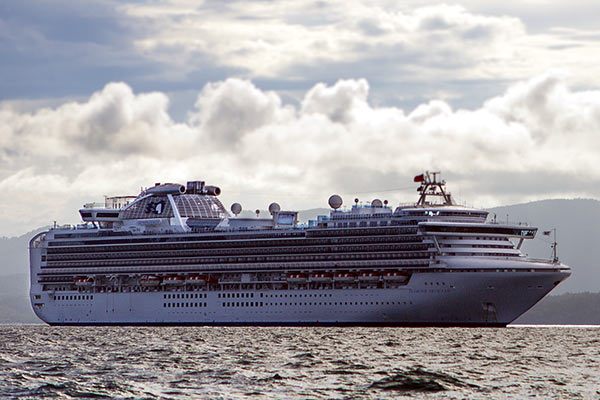 The Sapphire Princess Serves up Food and Fun
Book Sapphire Princess Now!
You'll always have a fantastic view when you book one of over 700 balconies on the Sapphire Princess. There's fun for everyone onboard; children have their own pool and club, while the Teen Center hosts fun for older kids.

In addition to traditional cruise ship dining on the Sapphire Princess, there are four dining rooms where guests dine anytime. Specialty restaurant Sabatini's serves fresh pasta and pasta, and Sterling Steakhouse offers sizzling cuts. Vines Wine Bar is the place to go for tapas and sushi with vino, and a number of casual spots will fill your belly. You can enjoy afternoon tea, poolside pizza, Swirls ice cream bar, and 24-hour room service.

Try your luck at the swanky casino or enjoy a first-run film with the family at Movies Under the Stars. If you'd like to see a show on the Sapphire Princess, Club Fusion and Skywalkers Nightclub host live music.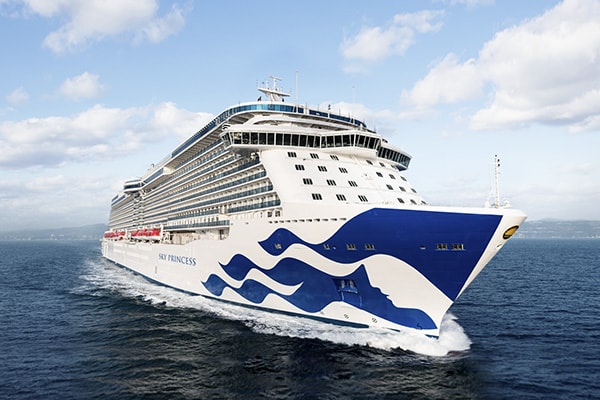 Enjoy Divine Cruises Aboard Sky Princess
Book Sky Princess Now!
Want to host a luxurious family getaway? Sky Suites aboard Sky Princess boast incredible 700-square-foot balconies, the largest on Princess' fleet. When it's meal time, you can choose from nearly any world cuisine. There's also a wine bar, steakhouse, trattoria, The Salty Dog Gastropub, Chef's Table Lumiere, afternoon tea, Ocean Terrace seafood bar, Anytime Dining or traditional dining, plus pizza, gelato, a café, and more.
Sky Princess entertains guests of all ages, from the street performers in The Piazza, to the jazz band in Take Five. Catch a movie on deck under the stars, enjoy a Broadway-style production, or compete against other cruisers in the singing competition The Voice of the Ocean.
When you're not in port, there's plenty to do aboard Sky Princess. Learn about constellations with Discovery learning programs. Dance to live music every night, revel in global culture with Festivals of the World events, play volleyball, and take in Broadway-esque extravaganzas.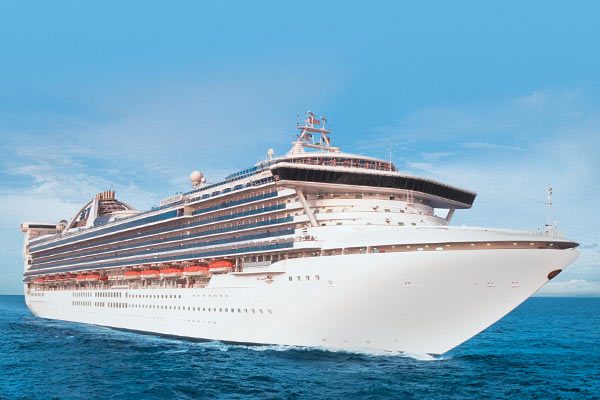 The Star Princess Shines at Sea
Book Star Princess Now!
Star Princess guests have fun meeting up in the soaring Piazza-style atrium and watching first-run films at Movies Under the Stars. Adults have a private oasis at The Sanctuary while kids enjoy karaoke, pajama nights, and pizza parties.

The Promenade Lounge and Bar is a prime people-watching area on the Star Princess. The Skywalkers Nightclub on the top deck offers great views, libations, and music. A variety of duty-free shops will scratch the shopping bug, and if you just want to sink into a hot tub, there are plenty on board.

From casual to fine dining, the Star Princess offers something for everyone. Fresh pasta and seafood is the norm at Italian restaurant Sabatini's. Enjoy a British pub lunch at the Wheelhouse Bar. If a long swim has your tummy rumbling, enjoy poolside hot dogs and burgers. If you're hungry late, there's the 24-hour International Café. For cooked-to-order steaks and premium seafood, indulge at Crown Grill.