Palm Springs – Hollywood Playground
Palm Springs – Hollywood Playground
Since the 1920's, Palm Springs has been Hollywood's desert playground for celebrities to relax and escape from the hustle and bustle of showbiz. Celebrities stayed and purchased hideaway homes in Palm Springs, such as Frank Sinatra, Dean Martin, Sammy Davis Jr., Elizabeth Taylor, Elvis Presley, Cary Grant, Marilyn Monroe, Lucille Ball, Bob Hope, Bing Crosby, Kirk Douglas, and Jack Benny, and Dinah Shore, to name a few.
Famous couples did rendezvous in Palm Springs including Clark Gable and Carole Lombard, Steve Lawrence and Edye Gorme, Frank Sinatra and Ava Gardner, Lucy and Desi, Elvis and Priscilla, David O. Selznick and Jennifer Jones, President Dwight and Mamie Eisenhower, President Ronald and Nancy Reagan, and Walter and Lee Annenberg .
Discover Palm Spring's own Walk of Stars
Discover the many Hollywood Stars who lived, loved and played in this beautiful desert oasis called Palm Springs. Ruby Keeler, Al Jolson, William Powell, Rudolf Valentino and Harold Lloyd started the escape from Hollywood to the desert in the 1920's. They were soon followed by Ralph Bellamy, Charlie Farrell, Shirley Temple, Buddy Rogers, Mary Pickford, Clark Gable, Bob Hope, Frank Sinatra, Ginger Rogers, Gene Autry and most of Hollywood's stars of luminous variety and origin.
Howard Keel, Liberace, Elizabeth Taylor, Elvis Presley, George Montgomery, Dinah Shore, Sonny Bono, Merv Griffin, Rich Little, Presidents Ronald Reagan and Gerald Ford as well as hundreds more have also joined the long list of celebrities who enjoy the special magic of this village.
Enjoy live music and drinks at a favourite Rat Pack hangout
Club Trinidad resort was built in 1960 when the original Purple Room opened its doors. The still popular venue is considered to be one of Palm Springs "Original" Rat Pack Hangouts … where Frank Sinatra would bring friends to eat, drink and play.
The Purple Room
1900 East Palm Canyon Dr. , Palm Springs, CA, 92264
760-322-4422 | purpleroompalmsprings.com
Attend the Palm Springs International Film Festival and Gala
A new generation of Hollywood A-listers has succumbed to the lure of the desert and the
relaxing privacy it offers. Palm Springs is being rediscovered by today's Hollywood stars,
especially during the Palm Springs International Film Festival held annually in January.
Founded by then-mayor Sonny Bono, the star-studded events attracts celebrities such as Clint Eastwood, Ron Howard, George Clooney, Leonard DiCaprio, Anne Hathaway, Brad Pitt, Angelina Jolie, and many more.
Book a Palm Springs Hotel Now
Palm Springs – Rest, Relax, Rejuvenate
With over 350 days of sunshine, Palm Springs is the perfect getaway any time of the year. Spend the day pampering yourself…treat yourself to a massage or spend a few hours soak up the sun and lounge by the sparkling pool while reading your favorite book at a luxury resort or at a secluded boutique inn. Dine alfresco in the charming and hip village, or shop the many retro boutiques, mid-century modern furniture stores, art galleries and chic consignment and thrift shops along Palm Canyon Drive. Cap the evening with an evening stroll around the village of Palm Springs to enjoy the warm, star-studded desert evening. It that's not enough, here are a few more ideas.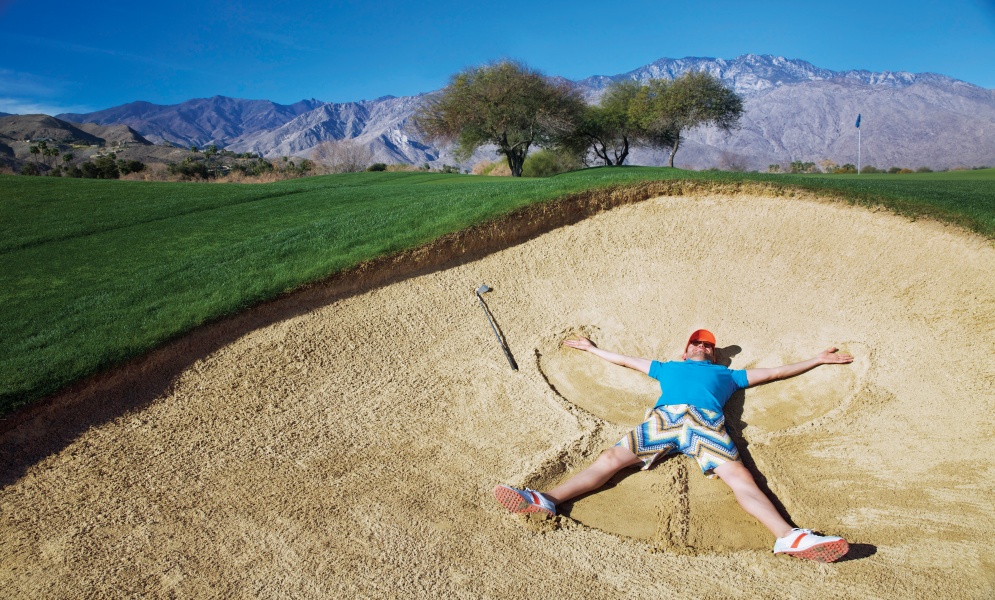 Book a Flight to Palm Springs Now
Stroll through the worlds largest fan palm oasis.
The Indian Canyons located on Agua Caliente tribal land, are a must-see. Undisturbed
natural beauty is combined with remarkably easy access – the canyons are located just minutes from downtown Palm Springs. Over 100 miles hiking trails – from easy to advanced. Beautiful landscape, streams, waterfalls and tall California Palm Trees. Centuries ago, ancestors of the Agua Caliente Cahuilla Indians settled in the Palm Springs area and devel-oped extensive and complex communities in Palm, Murray, Andreas, Tahquitz and Chino Canyons. Indian-canyons.com
Visit Moorten Botanical Gardens
Just south of downtown, and on the road to the Indian Canyons, is a small jewel – the Moorten Botanical Gardens. It is an internationally famous living museum with over 3,000 examples of desert cacti and other desert plants, thriving in the desert since 1939. 1701 S Palm Canyon Drive, Palm Springs CA 92264. T:760-327-6555 Moortengarden.com
Take a Palm Springs Architectural Tour
Palm Springs has been named by the National Register of Historic Places as having the largest collection of mid-century modern architecture in the county. Learn about the history of Thomas O'Donnell and Nellie Coffman and their major contributions to the Valley. A fun and comprehensive three-hour citywide overview of Palm Springs mid-century modern architecture and more. Join architectural historian Robert Imber for an in-depth insiders' tour of modern Palm Springs. You'll see hidden masterpieces, hear the stories about who lived where, and learn about the talented architects and designers who
contributed to the city's modernist legacy. 50's and 60's. Experience Palm Springs' world-famous collection of mid-century modern architecture on a personal tour with Trevor
O'Donnell, one of the area's most knowledgeable, experienced and entertaining guides.

Explore Downtown and the Uptown Design District
Uptown Design District…the hippest half mile in the desert. A host of vintage and modern furniture stores, fashion boutiques and art galleries line North Palm Canyon Drive, and are as bright, colorful and awe inspiring as the California sunshine.
Downtown… Trendy. Eclectic. Walkable. Tucked along palm tree lined streets is a wonder-ful assortment of fashion and crafts boutiques, galleries, artist studios and vintage valua-bles. Many cafes and restaurants are squeezed between to allow you to rest your feet for a bite, latte or martini.
See the current exhibition at the Palm Springs Art Museum
The Palm Springs Art Museum has an extensive permanent collection which includes significant works by western, contemporary and glass artists, and features temporary exhibitions from internationally acclaimed artists.
Rent a scooter or grab a bike and explore Palm Springs
Many hotels and rental properties in Palm Springs provide bikes. With
sunshine over 350 days a year, it's a great bicycle destination. Palm Springs has 5 designated bike trail s within the city. Bike maps are available for free. Download at VisitPalmSprings.com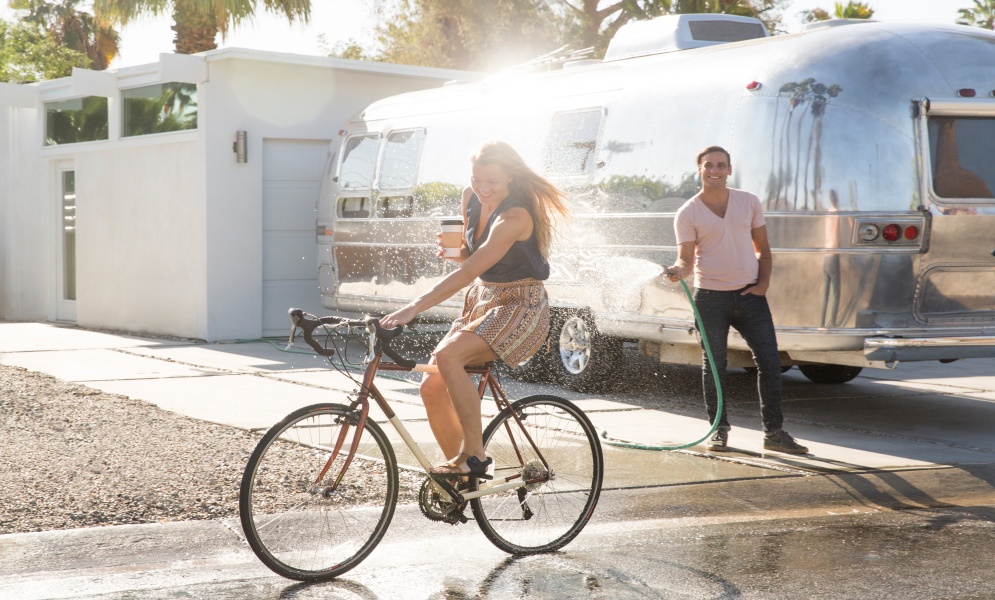 Book A Palm Springs Tour Now
Ride the Palm Springs Aerial Tramway
Travel on world's largest rotating tramcar and you will experience a breathtaking journey up the sheer cliffs of Chino Canyon. A 10-minute ride at the 2,643 ft. Valley Station and rise to the Mountain Station at 8,516 ft. Once you are at the top, there are over 54 miles of hiking trails within the San Jacinto State Park. Will enjoy "a culi-nary experience above the clouds." Have lunch at Peaks Restaurant nestled on top of the San Jacinto Mountain at 8516 feet above sea level. Floor to ceiling windows treat guest to a panoramic view of the San Bernardino Mountain range, sunsets, and the twinkling lights of the Coachella Valley. 1 Tramway Road, Palm Springs, CA 92262. T:760-325-1391 | 888-515-8726
pstramway.com
See the current exhibition at the Palm Springs Art Museum
The Palm Springs Art Museum has an extensive permanent collection which
includes significant works by western, contemporary and glass artists, and
features temporary exhibitions from internationally renowned artists. Palm Springs Art Museum, 101 Museum Drive, Palm Springs, CA 92262. T: 760-322-4800 psmuseum.org
Enjoy live music and drinks at a favourite Rat Pack hangout
Club Trinidad resort was built in 1960 which was when the original Purple Room opened its doors. The still popular venue is considered to be one of Palm Springs "Original" Rat Pack Hangouts … where Frank Sinatra would bring friends to Eat, Drink and Play. The Purple Room, 1900 East Palm Canyon Dr. , Palm Springs, CA, 92264. T:760-322-4422 purpleroompalmsprings.com
Stroll the Palm Springs Village Fest every Thursday
Browse more than 200 booths offering beautiful art, handcrafted items and unique food. For over 20 years, Village Fest is held every Thursday and is a free community event in downtown on Palm Canyon Drive. Hours: 6:00 – 10:00 pm |Villagefest.org