Norwegian Cruise Line Promotions

4 Night Bahamas Cruises from $299 on Norwegian! ALL Inclusive Cruises w/ FREE Open Bar & Much More, Plus Up to $500 to Spend On Board!  Book Cruise Deal Now
Hot Deal! 7 Night Caribbean Cruises from $449 on Norwegian ALL Inclusive Cruises w/ FREE Open Bar & Much More, Plus Up to $1,000 to Spend On Board!  Book Cruise Deal Now
3 Night Bahamas Cruises from $279 on Norwegian! ALL Inclusive Cruises w/ FREE Open Bar & Much More, Plus Up to $500 to Spend On Board!  Book Cruise Deal Now
Hot Deal! 4 Night Cuba Cruises from $469 on Norwegian! ALL Inclusive Cruises w/ FREE Open Bar, Plus Up to $500 to Spend On Board!  Book Cruise Deal Now
Coming Soon, sail in Luxury Aboard Norwegian Bliss Ship! Book Cruise Deal Now
7 Night Hawaii Cruises from $1,199 on Norwegian! ALL Inclusive Cruises w/ FREE Beverage Packages & Much More, Plus Up to $1,000 to Spend On Board!  Book Cruise Deal Now
7 Night Hawaii Cruises from $1,179 on Norwegian! ALL Inclusive Cruises, Plus Including Beverage Package, Dining Packages & $50 per port Shore Excursion Credit!  Book Cruise Deal Now
Hot Deal! 7 Night Mexico Cruises from $449 on Norwegian! ALL Inclusive Cruises w/ FREE Open Bar & Much More, Plus Up to $1,000 to Spend On Board!  Book Cruise Deal Now
Hot Deal! 7 Night Caribbean Cruises from $439 on Norwegian! Up to $1,500 to Spend On Board, Plus Free Drinks, Free WiFi@Sea!  Book Cruise Deal Now
What's Hot right now on Norwegian!
Norwegian has won the award of Europe's Leading Cruise Line for nine consecutive years!.
Exotic destinations with cruises around Cape Horn and along the Brazilian coast as well as to the Far East and all the way to Australia and New Zealand.
Two ships in Europe,

Norwegian Epic

and

N

orwegian Jade

will already have received substantial upgrades as part of a $400 million investment

The Norwegian Edge

® delivering consistent, superlative standards right across the fleet.
Freestyle Dining, the most exciting foodie scene at sea with the freedom to dine when and where guests choose and up to 28 global dining options.
Amazing entertainment, like fully-staged top Broadway musicals, award-winning production shows and music and dancing all over the ship.
Take advantage of some deeply discounted fares while sailing away on a Last Minute cruise or plan ahead and avail of early bird discounts! Please note, cruise rates do not include port tax which vary depending on cruise port and duration. Total price (including port tax) will be displayed prior to checkout.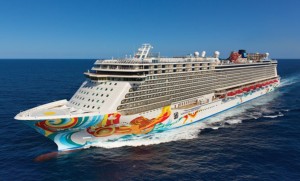 Norwegian Getaway