Holland America Offers Enriched Experiences

Guests on Holland America cruises enjoy lots of enriching activities, especially for foodies. America's Test Kitchen offers live cooking shows and workshops. Do you love cooking? Learn to make pasta with ease or perfect that pie crust!
Naturally, that's not all that the Holland America cruise line has to offer. Would you like to learn how to make wine? Hope to finally figure out how to edit your photos on a computer? These cruises offer programs like these. You can also watch movies under the stars or enjoy live music at B.B. King's Blues Club, or you might indulge in authentic Italian or French meals at dinnertime. You can do it all when you travel on the Holland America Line!
And that's only on board. Now, choose your destination. Sail away on Holland America cruise ships to Asia, Alaska, or the South Pacific. You can even spend the holidays sailing the Caribbean, New Zealand, or Indonesia when you travel on Holland America cruises.
| | | | | | | | |
| --- | --- | --- | --- | --- | --- | --- | --- |
| Ship | Launched | Pax | Crew | Pools | Bars | Casino | Kids Programs |
| | | | | | | | |
| Eurodam | 2008/2015 | 2,104 | 782 | 2 | 12 | Yes | Yes |
| Koningsdam | 2016 | 2,650 | 1,036 | 2 | 7 | Yes | Yes |
| | | | | | | | |
| Nieuw Amsterdam | 2010/2015 | 2,106 | 933 | 2 | 11 | Yes | Yes |
| Nieuw Statendam | 2018 | 2,662 | 1,025 | 2 | 5 | Yes | Yes |
| Noordam | 2006/2015 | 1,972 | 811 | 2 | 10 | Yes | Yes |
| Oosterdam | 2003 | 1,916 | 800 | 2 | 10 | Yes | Yes |
| Prinsendam | 2002/2016 | 793 | 470 | 2 | 5 | Yes | Yes |
| | | | | | | | |
| | | | | | | | |
| Volendam | 1999/2014 | 1,432 | 604 | 32 | 7 | Yes | Yes |
| Westerdam | 2004 | 1,916 | 817 | 2 | 10 | Yes | Yes |
| Zaandam | 2000 | 1,432 | 615 | 2 | 7 | Yes | Yes |
| Zuiderdam | 2002 | 1,916 | 815 | 2 | 10 | Yes | Yes |
Life is Leisure Aboard The Eurodam Book Holland America Line Eurodam Now
If you like traveling the high seas in style, the Eurodam is for you. Plus, the vessel was recently renovated. Eurodam staterooms now offer interactive TV systems with complimentary movies and info, such as restaurant profiles, schedules, billing, and spa services.
Between ports, steep in the thermal pool aboard the Eurodam. Learn to edit photos, make home movie, or attend cooking classes and demos. Kids and teens have fun while learning at Club HAL, staffed with specialists in education, recreation, and more.
Hungry? The Eurodam offers many exceptional dining choices, including the Pinnacle Grill, where you'll feast on expertly prepared beef and seafood. Feeling Italiano? Canaletto's chefs create authentic Italian cuisine. Lauded by Condé Nast Traveler, Tamarind delivers exquisitely prepared cuisine from China, Japan, and Southeast Asia. There's also Lido Market, Dive-In, and New York Pizza.
The Koningsdam Comes Alive With Music Book Holland America Line Koningsdam Now
Aboard the Koningsdam, indulge in a tasting and wine-blending workshop with Chateau Ste. Michelle. Blend your own from five red varietals. Afterward, sip a bottle of your creation in your stateroom as you leave port.
Or take part in one of many workshops at the Culinary Arts Center — presented by Food & Wine magazine. When hunger comes calling, head to Tamarind for an aromatic Southeast Asian, Japanese, or Chinese meal. Go for authentic Italian at Canaletto or a meal to go at Lido Market.
For a bird's eye view, head to the Crow's Nest at the pinnacle of the Koningsdam, and watch the world sail by while sipping a cocktail. For "wow" chamber music, head to Lincoln Center Stage. B.B. King's All-Stars Band offers a soulful show at sea, while Billboard Onboard is the place to hear chart-topping tunes.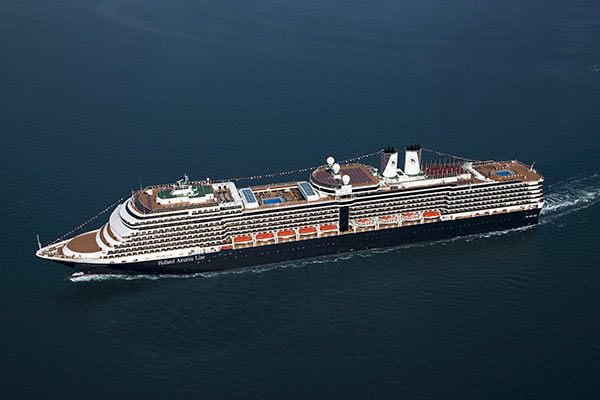 Holland America Line Nieuw Amsterdam
Art Reigns Aboard the Nieuw Amsterdam Book Holland America Line Nieuw Amsterdam Now
The Nieuw Amsterdam offers art lovers a rare treat — several works are featured aboard, to the tune of $3 million. From modern art to traditional Dutch masters, to abstract sculptures to Andy Warhol and Roy Lichtenstein pieces, you'll be hooked by the beauty aboard the ship. Take a self-guided iPod tour!
Between ports on the Nieuw Amsterdam, perfect your cooking skills at the Culinary Arts Center, presented by Food & Wine magazine. Fill your tummy while gazing at the sea via pan-Asian Tamarind. Or head to the Explorer's Lounge Bar for premium wine-tasting lounge.
The Explorations Café from The New York Times will fuel your caffeine needs, and the Pinnacle Grill and Pinnacle Bar offers creative cuisine. Relieve stress on the Nieuw Amsterdam at Greenhouse Spa and Salon in the thermal suites and hydro-pool, or treat yourself with a spa service.
Nieuw Statendam has EVERYTHING Book Holland America Line Nieuw Statendam Now
One of the newest ships from Holland America, Nieuw Statendam has it all. Experiences to make your travel richer, exquisite international cuisine, thrilling entertainment, comfy staterooms with modern touches such as USB ports, and so much more.
Hungry? Dine across the world aboard Nieuw Statendam with specialty restaurants like Tamarind, Canaletto, and Rudi's Sel de Mer, or take a seat in The Dining Room for a fantastic multi-course meal. Several casual options also await if you just want to chow down poolside or aboard the top deck. Like vino? Try creating your own variety at BLEND by Chateau Ste. Michelle.
Nieuw Statendam offers so much to do aboard, such as Explorations Central™, which makes your travel more immersive with expert guides, seminars, workshops, and more. Want a little live music? Check out Music Walk™, with the Lincoln Center Stage, Billboard Onboard, and B.B. King's Blues Club!
Art and Culture Mix on The Noordam Book Holland America Line Noordam Now
Noordam guests enjoy 19th-century paintings and photographs of subjects like Dizzy Gillespie and B.B. King. For your own cultural adventure, take a self-guided iPod tour!
The Noordam brings the magic of Memphis to sea with the B.B. King's Blues Club. Or check out the onboard "piano man" at the live piano bar. Rooting for the home team? The Sports Bar has you covered. The Vista Show Lounge offers vibrant shows each night while you sail to your next amazing destination.
Dining choices are many on the Noordam. Le Cirque offers up perfectly grilled steaks. Canaletto is the place to go to share authentic Italian, and the Dive-In has burgers galore.
The Oosterdam Sings the Tunes of the World Book Holland America Line Oosterdam Now
The Oosterdam was part of a $300 million overhaul in April 2016 and has lots of exciting additions, like the Music Walk™, comprised of Lincoln Center Stage, Billboard Onboard, and B.B. King's Blues Club. Suites were completely renovated with modern comforts and innovations.
Dine whenever you like on the Oosterdam. From authentic Italian at Canaletto to the exceptional dining room Pinnacle Grill and the casual, poolside chic of Dive-in, you'll never go hungry.
The Oosterdam even has a place for kids to hang, Club HAL. Teens have their own special hideaway at The Loft. Need to relax? The Greenhouse Salon and Spa has thermal pools, massages, and salon services to help you look and feel your best.
The Prinsendam Brings the Exotic to You Book Holland America Line Prisendam Now
As you sail to your next port on the Prinsendam, The Greenhouse Spa & Salon is the place to go to soothe your cares away. If you need a healthy jog, the fitness center beckons. Of course, if you just want to erase tension, hit the hot tub!
Power up in the Java Café or enjoy a nightcap in the Explorer's Lounge or Crow's Nest Lounge. Check out one of many lively performances aboard the Prinsendam in the Showroom at Sea.
When you dine on the Prinsendam, you can expect perfectly cooked steaks courtesy of Le Cirque and authentic Italian cuisine at Canaletto. If you prefer to dine on your private verandah or in your room, 24-hour room service is just a call away.
Holland America Line Volendam
The Volendam Blooms on the High Seas Book Holland America Line Volendam Now
Passengers sailing the comfortable Volendam delight in voyages sailing awe-inspiring itineraries. The theme of the ship is "flowers," and guests are treated to fresh blooms throughout the vessel in addition to an enticing art collection. See Renaissance-era fountains, pre-Columbian sculptures, and the kaleidoscopic Luciano Vistosi sculpture in the grand atrium.
When you're famished from exploring the world, the Volendam offers sizzling steaks at Le Cirque, earthly delights at Pinnacle Grill, Rotterdam dining room, and Lido Restaurant, and Canaletto. Of course, you can always order from room service 24/7 and enjoy a meal on your private verandah or in your stateroom.
Life is but a dream when you sink into the bubbling thermal suite or hot tub on the Volendam. Get endlessly entertained at Frans Hals Show Lounge, or play few rounds of blackjack at the casinos.
The Westerdam Sings Book Holland America Line Westerdam Now
If you seek entertainment, the Westerdam has lots of fun in store for you. Lincoln Center Stage offers chamber music, while Billboard Onboard will rock your world with over 50 years hits. Then there's the amazing B.B. King's Blues Club, which offers up the entire history of Memphis blues.
As you sail to your next port aboard the Westerdam, recharge with a spa treatment at Greenhouse Spa & Salon — or relax in the thermal pool. Take a yoga or pilates class, have fun while cycling, or swim in one of the outdoor pools. Learn to edit photos or make movies with a Digital Workshop, or test your inner chef with culinary demo or cooking class at the Culinary Arts Center.
The Zaandam Hits Every Note Book Holland America Line Zaandam Now
If you have more time than the average cruiser, consider boarding the Zaandam. This ship mostly sails extended itineraries. Most staterooms offer private verandahs so you can watch the sites sail by.
The theme of the Zaandam is music, and that means you'll see amazing memorabilia in nearly every corner. Want to check out Bill Clinton's saxophone? How about signed guitars from amazing bands like the Rolling Stones, Eric Clapton, Queen, or Iggy Pop?
Aboard the Zaandam, you can find other interests between ports. Take a self-guided iPod® tour of the ship's huge art collection.  Or take a Digital Workshop powered by Windows and learn how to edit photos and home movies.
Hungry? The Zaandam has plenty of options. If you're feeling casual, grab a burger at Dive-In. Indulge in a juicy steak from Le Cirque or experience authentic Italian from Canaletto.
The Zuiderdam is Spacious, Beautiful, and Bright Book Holland America Line Zuiderdam Now
Renovated in 2015, the Zuiderdam boasts a new propulsion system as well as environmental tech. There are also 25 new spacious staterooms and more dining options.
A Waterford Crystal Seahorse stuns in the three-story atrium aboard the Zuiderdam. Guests also admire works from Andy Warhol, Frank Lloyd Wright, and Charles Ben, in addition to paintings and antiques that are hundreds of years old.
Aboard your cruise on the Zuiderdam, treat yourself with a massage, a dip in the Lido pool, or warm up at the thermal suite in the Greenhouse Spa & Salon.
When hunger comes to call on your Zuiderdam cruise, you'll have plenty of options. Dive-In by the pool serves up juicy burgers, while Le Cirque produces sizzling steaks and Canaletto creates authentic Italian cuisine.
Top Ten Reasons to Choose Holland America Line
1. Holland America Line are the best value in cruising today. Holland America Line has been rated the "best cruise value" 18 years in a row by World Ocean and Cruise Liner Society — an elite group of experienced cruise travelers.
2. The wisdom of experience. They've been sailing for more than 138 years. Certain hallmarks that represent their heritage and signature of excellence can be found throughout their ships, while at the same time they continue to innovate and develop new experiences.
3. Their ships cruise the world. Their fifteen ships cruise all over the world: Alaska, Caribbean, Eastern Canada/New England, Hawaii, South America, Mexico, Antarctica, Europe, Asia Pacific, Australia and New Zealand, and their famous Grand Voyages, including the Grand World Voyage.
4. Renowned international crew. Who provide gracious, attentive service and remember your name, drink and special requests … and that's just the beginning.
5. Ships designed in the classic tradition. Offering true ocean travel with such elements as midnight- blue hulls, classic profiles, traditional brass finishes and expansive teak decks, including a wraparound promenade deck encircling the ship and lined with teak deck chairs.
6. Elegant dining with all the trimmings. Sterling silver. Sparkling Riedel stemware. Fine Rosenthal and Bvlgari china. Starched Frette linens. Fresh floral arrangements. Elegant decor and surroundings. Live music.
7. Carefully planned itineraries. Giving you the right time in the right places, including such unspoiled ports as Tortola in the Caribbean or the Sea of Cortez in Mexico, extended stays in key ports in Europe and South America, or two days in Denali National Park on their land tours in Alaska.
8. Extensive museum-quality collection of art and antiques. Multi-million dollar collection of artwork and antiques on each ship — many date back well over 300 years — adding to the sense and feeling of warmth, comfort and tradition on board.
9 Stylish, spacious, comfortable mid-sized ships. Designed to carry fewer passengers, more space per guest than any other cruise line in their class. Most of their ships serve 1,258–1,432 guests, and their Vista-class serves 1,914–1,924 guests. Their Signature-class ms Eurodam and ms Nieuw Amsterdam serves 2,104–2,106 guests. Want something more exclusive? Their elegant explorer ms Prinsendam serves only 835 guests.
10. More spacious and more comfortable accommodations. Cruise in staterooms which are 25 percent larger on average than other ships in their class. Staterooms are outfitted with premium plush Euro-Top mattresses, 100 percent Egyptian cotton luxurious bed linens, extra-fluffy towels and deluxe bathrobes. Amenities include massage shower heads, lighted magnifying make-up mirrors, stainless steel ice buckets and convenient hair dryers.