Cunard Blends Rich Tradition And Modern Touches
If you've heard of the Queen Mary 2, you've heard of Cunard and its legacy. Of course, that's because the Queen Mary 2 is the regal flagship of the Cunard line. The staff of the ship pride themselves in providing the finest cuisine at sea. When you sail Cunard, you can expect to savor mouthwatering dishes and extensive wine lists, as well as experience new adventures in cuisine. Fancy a decadent champagne breakfast? Cunard is one of the world's oldest lines, and that means tradition reigns supreme. Enjoy Cunard's renowned afternoon tea aboard a transatlantic voyage to steep yourself in the legacy of Golden Age cruising. However, these days you'll also be able to enjoy special Blue Note Jazz at Sea Transatlantic Crossings. How's that for a blend of new and old?
Book Cunard Line Now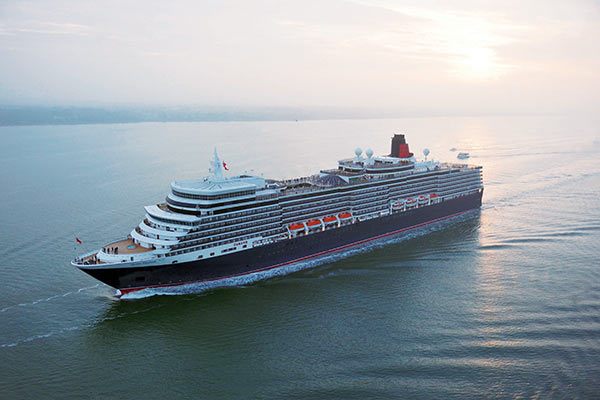 The Queen Elizabeth Reigns Cunard Book Queen Elizabeth Now
Named by Her Royal Majesty herself, the Queen Elizabeth offers elegantly appointed guest rooms in soft hues — and even staterooms for single travelers. What is there to do while you sail to your next destination? Play croquet or paddle tennis on the Games Deck. Or soothe your cares away in the Royal Spa with Elemis Spa amenities and a thermal suite. Shop for souvenirs or goodies at the Royal Arcade, featuring the Cunard Signature Collection and brands such as Harris Tweed Fortnum and Mason.

The Queen Elizabeth offers a number of dining choices for when hunger strikes. Listen to soft, live music with your meal at The Commodore Club, indulge in afternoon tea at Queen's Room, or go casual at The Garden Room or Cafe Carinthia.

Dance the night away aboard the Queen Elizabeth at The Yacht Club; you can even sign up for dance classes. Kids and teens onboard have their own hangout areas and activities, including pizza parties, bingo, and discos.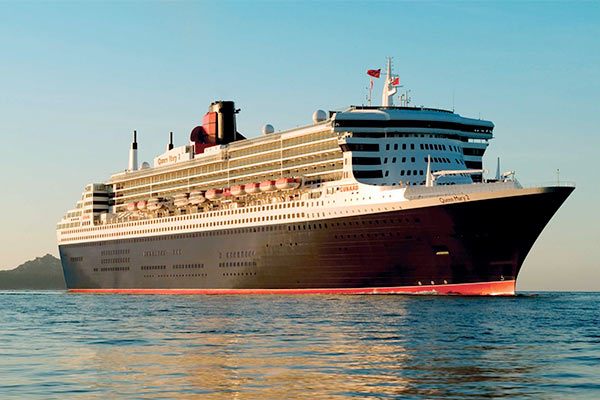 The Queen Mary 2 is the Height of Culture
Book Queen Mary 2 Now
There are so many enriching activities on the Queen Mary 2 — from the ordinary to the extraordinary — including the only planetarium at sea, ever. You can hear renowned speakers discuss their favorite subjects, take acting classes, or enjoy amazing dance shows and multimedia productions in the theater while the kids are in the nursery or having fun in one of the special children's programs.

Love dancing, or want to learn? You can take lessons and release your inner queen or king at one of the Royal Night theme balls aboard the Queen Mary 2. You can also simply cut the rug to tunes from the '60 – '80s at G32, the ship's rockin' nightclub. Love to read? At 8,000 books and magazines, you'll never run out of material, as this ship also has the largest library at sea. Shopping aboard the ship is far more advanced than other fleet. Here, you'll find brands like Harrod's and H. Stern among an impressive art gallery and bookstore.

If you love vino, you're in luck. The Queen Mary 2 boasts one of the largest wine collections at sea. In fact, you can even take seminars, tutored wine classes, and sommelier-led lunches to learn more about your favorite varietals and vintages. When you get hungry, you have a staggering amount of options for every type of palate and mood — from pubs to lounges to formal dining. Additionally, you can satisfy your cravings for effortlessly blended coffee and chocolate at Sir Samuel's.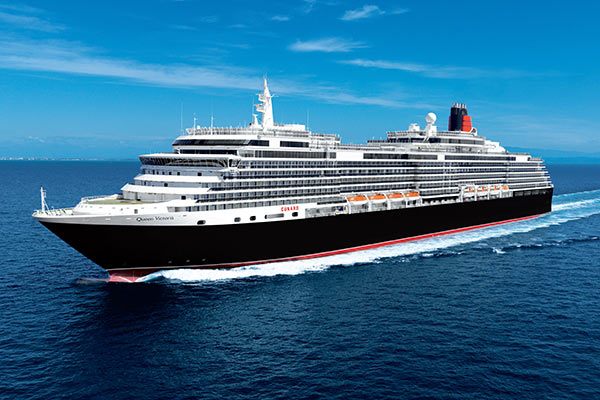 Queen Victoria is the Ambassador to Your Getaway
Book Queen Victoria Now
The Queen Victoria delights with elegant and comfortable staterooms and suites in soft hues and luxurious fabrics. As one of the stunning ships of the Cunard Line, she offers a getaway like no other — refined, cultured, and full of infinite possibilities. If you want to relive the Golden Age of cruising aboard this storied fleet, it's easy. Take a transatlantic cruise and enjoy afternoon tea while being pampered all the way to your destination — and don't forget to leave your cares behind.

When hunger comes to call aboard the Queen Victoria, she has you covered with nearly every mood and taste imaginable. If you love pub food, the Golden Lion serves up your favorites. The Britannia and Lido Restaurants are your catch-all dining rooms, cooking up cuisine that's anything but ordinary. You can find Asian fusion at Bamboo, Indian within Coriander, and perfectly cooked steaks and seafood at Prime. Release your inner 007 at the Commodore Club over a shaken martini or toast to your good fortune at the Veuve Clicquot Champagne Bar.

Would you ever expect to hear novelists or scientists speak aboard a cruise ship? Well, you can enjoy this feature and more aboard the Queen Victoria. You can even join a book club between soothing spa treatments, Royal Night Theme Balls, live concerts, and first-run movies.