Cruise Destinations
Looking for a little inspiration in a big and still very beautiful world? With so many unique and authentic destinations to choose from and so little time, we've put together a list which we hope will inspire you to explore more and sense the discovery when it comes to finding the perfect cruise sailing for you!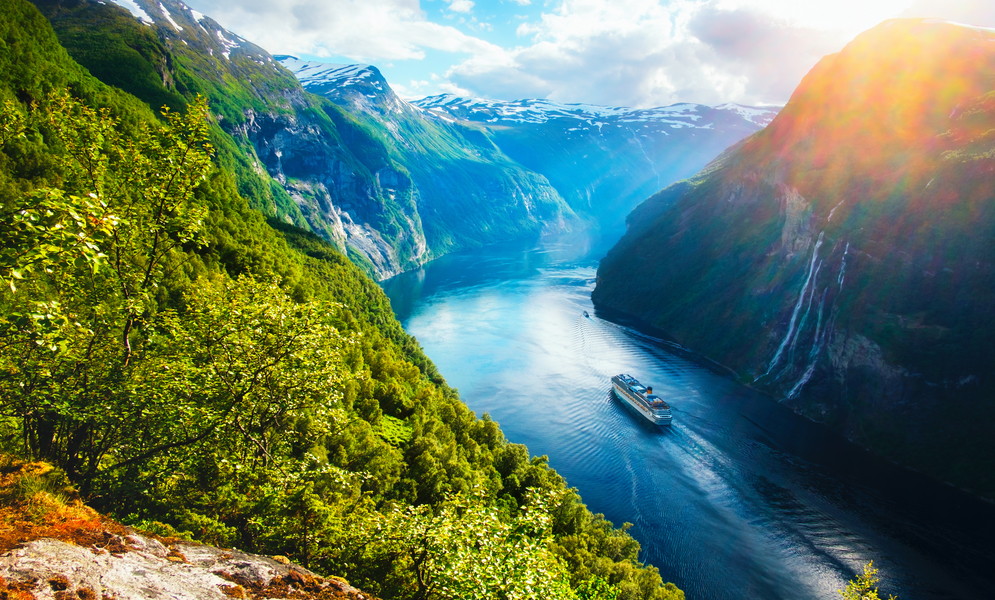 Life is a Holiday on an Africa Cruise Book Africa Cruise
If you're looking for an adventure, seek out an Africa cruise. These cruises are often far longer than usual, averaging 15-20 days as part of a world cruise or extended Africa itinerary. Among the fleets that offer Africa cruises include the stately Cunard, Holland America, Crystal, Oceania, MSC, AmaWaterways, and Princess.
South Africa offers stunning vineyards and consistently produces excellent wines. Of course, you'll be able to see an abundant amount of wildlife on your Africa cruise if you book a tour or excursion. You might see zebras, elephants, leopards, and lions, to name just a few.
On an Africa cruise, you might visit destinations such as Mozambique, Madagascar, Cape Town, Seychelles, Egypt, and Port Elizabeth. Other voyages include Africa as part of a world cruise or extended cruise, and may visit India and the Maldives, too. Cruises may embark from Lisbon, Port Louis, Perth, Cape Town, and India.
Sail Alaska, the Last Frontier Book Alaska Cruise
There's no place like Alaska, one of the most breath-taking states in the U.S. Visiting Alaska may make you feel like you're visiting another country or maybe even another world. An Alaska cruise can take you through the Inside Passage, near the incredible Hubbard Glacier, or into Glacier Bay National Park. Alaska cruise packages can also include a tour or excursion on shore to the unique and beautiful Denali National Park.
People typically take an Alaska cruise from Vancouver, Seattle, or another Pacific coastal port, and some of the stops on your itinerary might include Skagway, Sitka, Ketchikan, Seward, or Juneau. Alaska cruise packages include many incredible destinations, but no matter where you go, you can count on seeing gorgeous glaciers, old Gold Rush towns, Native American culture, and stunning vistas of forests filled with incredible wildlife. Alaska is for the adventurous. Be bold and book your cruise with us today for the best price on an unforgettable adventure!
Antarctica is a True Adventure Book Antarctica Cruise
Antarctica isn't usually a destination on the top of everyone's list for vacations. However, those who make the trip as part of a thrilling Antarctica cruise have memories that last forever.
As the southernmost continent, Antarctica is an enormous landmass covered with ice. Its high elevation, dry atmosphere, and cold temperatures mean that the continent is nearly completely uninhabited, safe for the varied wildlife. Curious seals, whales, and penguins may come out to play. Fleets that offer Antarctica sailings include Seabourn, Holland America, Azamara, and Crystal.
What can you expect on an Antarctica cruise? You'll likely sail from South America and pay a visit to the South Shetland Islands and the Antarctic Peninsula. Here, you'll see passages filled with icebergs, Paradise Harbour and the Lemaire Channel, and Port Lockroy, the museum — a former British research station.
Discover the Beauty of Asia Book Asia Cruise
Asia is an enormous part of the world, and an excellent way to discover it is on a cruise. You'll get to experience many different countries quite easily, at an affordable price.
Southeast Asia cruises may include Vietnam, Thailand, Singapore, while a Northeast Asia sailing could include South Korean ports, such as Busan and Jeju Island, as well as stops in Shanghai and Japan.
Depending on which cruise line and itinerary you choose, an Asian cruise may also include India, Malaysia, Indonesia, and the Arabian Peninsula, including glamorous Abu Dhabi.
Popular cruise lines that offer exciting Asia cruises: Norwegian, Royal Caribbean, Crystal, Princess, and Holland America.
See Australia and New Zealand, Pearls of the Pacific Book Australia / New Zealand Cruise
Australia and New Zealand in the Pacific Ocean are amazing countries full of beautiful beaches, lush green valleys, and fjords.
An Australia-New Zealand cruise may include stops in Auckland, Brisbane, Sydney, Melbourne, and Wellington. You may get lucky enough to sail by Willis Island, teeming with rich wildlife, such as sea turtles and albatross. New Zealand's Dusky Sound offers lots of playful seals, while Doubtful Sound has beautiful fjords, and Milford Sound is abundant with waterfalls.
Of course, the beautiful Great Barrier Reef could also be on your itinerary, too.
Your Australia-New Zealand cruise can be as luxurious or as low-key as you like. Popular cruise lines that sail this region include Seabourn, Holland America, Royal Caribbean, Norwegian, Princess, Crystal, Cunard, and Celebrity.
Escape to the Beach Paradise of The Bahamas Book Bahamas Cruise
Out of the world's many beautiful cruise destinations, a Bahamas cruise is one of the top choices. This group of around 700 islands in the southern Atlantic is easy to access from U.S. shores with frequent cruises from Florida to the Bahamas. A Bahamas cruise is usually a great option for those who would like to go on a short trip, though itineraries can be stretched out to also visit the Caribbean and Florida Keys, too.
What makes the Bahamas such an incredible destination? The long beaches of soft, white sand beckon to many, offering an escape from daily life. Some of the most popular places to visit are Nassau, Grand Bahama Island, and Paradise Island, which is home to the famous Atlantis Paradise Island Resort and water park.
A Bahamas cruise from Miami is a very popular option, but you'll also find many that depart from Fort Lauderdale and Port Canaveral as well as other domestic ports. Many major lines sail here, like Royal Caribbean, Norwegian, Celebrity, Carnival, and Disney.
Enjoy Beautiful Pink-Sand Beaches for Less Book Bermuda Cruise
Bermuda is located approximately 700 miles off the coast of the Carolinas in the Atlantic Ocean. The island is known for its British heritage and breathtaking pink-sand beaches. Bermuda cruises most often sail to St. George's, a colonial port lined with cobblestone streets and quaint shops, or King's Wharf, which hosts a combination rum cake factory and glass-blowing workshop. While both Bermuda ports are charming introductions, it's easy to get around the whole island.
Bermuda cruises allow you to experience an authentic afternoon tea at the Fairmont in Hamilton or travel to see those beautiful beaches for yourself in Horseshoe Bay or Southampton. There's also a treasure museum! While in Bermuda, try some of their local specialities, including a rum swizzle drink or spicy Bermuda fish chowder. Our best price guarantee, saves you more to be used to experience it all. Book Bermuda Cruises Online Today.
Visit History in Canada and New England Book Canada / New England Cruise
When you embark on a Canada and New England cruise, you're in for some impressive history, and excellent seafood. From cobblestone streets to national parks and lighthouses to magnificent fjords, you'll have a magical experience.
Book a Canada and New England cruise with a July itinerary, and you're likely to see celebratory fireworks under the Boston night sky during Independence Day. Other destinations may include Newfoundland, Halifax and Sydney in Nova Scotia, Bar Harbor and Portland in Maine, Montreal, Prince Edward Island, and Quebec City.
Fleets that offer Canada and New England cruises include Celebrity, Royal Caribbean, Holland America, Princess, Crystal, and Carnival.
A Caribbean Cruise Cure-All Book Caribbean Cruise
Many cruise lines offer discount Caribbean cruises, but each company offers voyages of different lengths to different Caribbean cruise destinations, so you have plenty of options. There are three major Caribbean regions: eastern, western, and southern. But no matter where you want to go, Fly Cruise Stay can help you book discount Caribbean cruises to your dream location at the best possible price.
Caribbean cruise destinations are always beautiful, with plenty of beaches and delicious food and drinks. Beautiful and historic ports await in places like Grand Turk Island, Antigua, Grand Cayman Island, the Virgin Islands, Jamaica, Belize, and Honduras.
A Caribbean cruise is one of the most popular and inexpensive ways to tour and explore this region, and with Fly Cruise Stay, you can visit a huge selection of Caribbean cruise destinations with itineraries on many different ships and cruise lines, including discount Caribbean cruises from Princess, Holland America, Norwegian, Carnival, Royal Caribbean, and more.
Cuba is Open for Business Book Cuba Cruise
After decades of being off limits, Cuba is now open to U.S. visitors! That means that lots of exciting cruise options are on the horizon for this historic occasion. Sail to beautiful Havana and see an amazing culture, with lots of excellent music, food and drink, very friendly people, and colorful old cars.
Of course, you'll dock in Havana, Cuba's capital. You might explore Casco Viejo, Cuba's own Old Town, and a UNESCO World Heritage Site. What can you expect to see? A variety of historic sites, colonial Spanish architecture, the Havana Cathedral, Revolution Square, the Avenida de los Presidentes, and the Malecón waterfront.
The U.S. and Cuban governments are still negotiating details; fleets currently offering Cuba cruises include Norwegian, Royal Caribbean, and Viking Ocean Cruises – and more shall come soon.
Life is Easy in the Eastern Caribbean Book Eastern Caribbean Cruise
Eastern Caribbean cruises are filled with beautiful tropical ports, and are a favourite itinerary of many guests. If you choose one of these itineraries, you can look forward to excellent island food, warm blue waters, and amazing beaches.
These Eastern Caribbean cruises often include ports in Grand Turk, Antigua, St. Lucia, St. Thomas, St. Maarten, St. Kitts, and Honduras. Some cruise lines even have their own private island stops, such as Royal Caribbean's Labadee port off the coast of Haiti, and Amber Cove, Carnival's port in the Dominican Republic.
U.S. origin ports are located in the Southeast U.S., and departure cities can include Tampa, New Orleans, Fort Lauderdale, Miami, and Galveston.
Eastern Caribbean cruises are offered by several popular cruise lines, such as: Royal Caribbean, Celebrity, Norwegian, Princess, Carnival, and Holland America.
Escape with a European Cruise Deal to Enjoy the Majesty of Europe Book Europe Cruise
Europe is made up of many countries, regions, and ports. Bordered by three oceans – the Atlantic, Arctic, and the Mediterranean, Europe is brimming with culture and a storied history.
A European cruise is a great way to experience everything without going over budget. From the to the balmy Mediterranean Sea to the balmy Mediterranean Sea fjords of Norway, Europe offers uniquely beautiful sights, delicious food, and world-class art and architecture. Trust Fly Cruise Stay to offer the best prices on European cruise lines to help make your travel dreams come true.
Experience interior Europe on a river cruise offered by some of the best European cruise lines, such as Viking River Cruises or AmaWaterways, or see magnificent ocean ports with other major cruise lines, like Costa, Princess, MSC, Holland America, Royal Caribbean, Celebrity, and many more.
Explore Gorgeous Galapagos Islands Book Galapagos Cruise
Cruises in the Galapagos Islands are often between seven and fifteen days long. This length allows you to truly experience this wondrous archipelago of nature and creatures found nowhere else on Earth.
How does snorkeling in bright blue waters with friendly sea lions, sea turtles, tropical fish, and manta rays sound? You can also hike a long-extinct volcano, watch Galapagos frolicking, and explore caves, cliffs, and lava tunnels!
Some cruise ships offer specialised, Galapagos-only itineraries. Celebrity has three ships looping the islands: Celebrity Xpedition, Celebrity Xperience, Celebrity Xploration. Silversea also offers a luxury Galapagos cruise on its stunning Silversea Expedition
Heavenly Hawaii Awaits You Book Hawaii Cruise
Hawaii is a beautiful series of volcanic U.S. islands in the Pacific Ocean. It could be an expensive getaway, but if you experience the wonders of the islands on Hawaiian island cruises, you'll save a ton of money without sacrificing the experience, as your food, lodging, and inter-island transportation are included in one low price with Hawaii cruise deals.
In Hawaii, you'll see an amazing island oasis full of green foliage, cascading waterfalls, and soaring cliffs. Beautiful beaches come in a variety of sand colours, from gold, black, green, and red.
Comprised of six main islands, Oahu offers Waikiki Beach, Pearl Harbor memorials, and Hawaii's capital, Honolulu. You'll also visit Kauai, Hilo, and Maui. Several major cruise lines visit Hawaii, including Norwegian, Princess, Carnival, Celebrity, and Royal Caribbean.
Experience the Magic of a Mediterranean Cruise Book Mediterranean Cruise
In the Mediterranean, you'll find an alluring mixture of art, culture, and cuisine. This region features the beauty of Cannes, France, and the charms of Venice, Rome, Naples, Pompeii, Tuscany, and Florence, Italy. You'll also be able to discover much more, from Sicily, Corsica, and Sardinia to Barcelona and Majorca in Spain.
The best Mediterranean cruise offers a fantastic way to experience a variety of countries and cultures without obliterating your budget. You'll also be able to see different landscapes, from mountains, fields, and valleys to beaches and cosmopolitan cities.
You can sail and see it all aboard the world's top Mediterranean cruise lines, such as Holland America, Celebrity, Princess, and Royal Caribbean.
Add Mucho Mexico on Your Next Cruise Book Mexico Cruise
Mexico is a big country with many regions, but some of the most well-known places for travelers to visit are the Yucatan and Mayan Riviera, including Tulum, Cancun, and Playa del Carmen; Mexico City; the Mexican Riviera, including Acapulco, Mazatlán, Puerto Vallarta, Zihuatanejo, La Paz, and Manzanillo; and Baja Mexico, including Cabo San Lucas. No matter where you want to travel, Fly Cruise Stay can help you find the best Mexico cruise deals.
Cruisers love Mexico's delicious food, soulful mariachi music, and zest for life. When you cruise to Mexico, departure ports are often in the southern U.S., such as Los Angeles, San Diego, Miami, New Orleans, Tampa, or Galveston.
You can take many different cruise lines to Mexico, including Crystal, Princess, Norwegian, Carnival, Celebrity, Holland America, and Royal Caribbean. Once you choose your preferred itinerary, you'll have a better idea of which one will give you the best cruise to Mexico.
Experience the Man-Made Magic of the Panama Canal Book Panama Canal Cruise
The Panama Canal is a man-made, 48-mile-long waterway that was created to connect the Pacific and Atlantic Oceans. This made sailing from the West Coast of the U.S. to the East Coast and South America — and beyond — far faster. Trade between nations has also increased due to this modern technological marvel.
Panama Canal cruises are sometimes split into two categories: partial and full transits. For instance, a partial transit might sail round trip from Fort Lauderdale, through Gatun Locks to Gatun Lake, and offer stops in beautiful Central American and Caribbean ports, including Cartagena, Limón, Ocho Rios, and Aruba.
Full transit Panama Canal cruises sail one way. You may depart from a west coast city such as Los Angeles or Vancouver, cruise through the Pedro Miguel, Gatun, and Miraflores Locks, and stop in the Caribbean and Central America before sailing up to an East Coast destination port like Miami.
Fleets that offer Panama Canal cruises are as luxurious or as low-key as you like. They include: Oceania, Holland America, Princess, Norwegian, and Seabourn.
Fall in Love with Lively South America Book South America Cruise
A South America cruise is an experience to behold. You'll learn about the Nazca Lines in Peru and native Amazonians all while discovering amazing natural vistas and of course, sampling all the South American cuisine you can eat.
South America ports are usually included on expansive world cruises, but often booked as part of an Amazon and South American itinerary. No matter the length of your voyage, you'll see incredible destinations and do amazing things. For instance, you could see Magellanic penguins nest near Punta Arenas, go sunbathing in Rio de Janeiro, dance until dawn in Argentina, or have a fun trip to Uruguay's largest winery.
As for landscapes, they vary wildly, from the lush Amazon rainforest to the dry Atacama Desert and Chilean fjords with towering glaciers. Fleets that offer South America voyages include Oceania, Holland America, Princess, Norwegian, Regent Seven Seas, Celebrity, Silversea, and Seabourn.
The South Pacific is Paradise on Earth Book South Pacific Cruise
The South Pacific islands — or Polynesian Islands — are comprised of islands such as Fiji, American Samoa, Samoa, French Polynesia, the Cook Islands, Easter Island, Tahiti, Bora Bora, Rarotonga, and Micronesia. To some, the South Pacific means Australia and New Zealand, which have their own lure.
The South Pacific is a remote part of the world for most people; that means that you'll need a good amount of time — and money — to budget for your getaway. However, when you arrive on one of these amazing islands, you'll be glad you went. From coconut plantations, over-water bungalows, clear turquoise waters, and the freshest seafood imaginable, the South Pacific is a dream come true.
If you want to book a South Pacific cruise, several top fleets can accommodate you, such as Princess, Oceania, Holland America, Crystal and Celebrity.
Let the Southern Caribbean Soothe You Book Southern Caribbean Cruise
If you like the tropics, you'll adore a Southern Caribbean cruise. You can lounge on a white-sand beach, go snorkeling among vibrant, multi-colored fish, and experience some of the most beautiful sunsets on earth. Plus, there's plenty of fresh seafood, rain forests, and waterfalls to go around.
These itineraries include amazing locales such as the ABC islands — Aruba, Bonaire, and Curaçao — and the French West Indies (Guadalupe, St. Barts, and Martinique). And don't forget the lush islands of Grenada, Dominica, and St. Lucia.
While most big cruise lines — Carnival, Norwegian, and Royal Caribbean — offer Southern Caribbean cruises, there aren't many ships that can go to all of these beautiful ports. Smaller ships can travel to smaller ports in more remote islands, such as Dominica. Fleets such as Celebrity, Seabourn, Crystal, Silversea, and Regent Seven Seas have vessels that offer Southern Caribbean itineraries.
Enjoy the Tropical Western Caribbean Book Western Caribbean Cruise
If you love the sun-splashed islands, a Western Caribbean cruise is for you! These cruises often take less travel time, since they are closer to U.S. origin ports. Itineraries often include ports in Mexico, such as Cozumel and Costa Maya.
You may also get to travel to other beautiful countries and islands, such as Belize, Jamaica, Grand Cayman, and St. Thomas. Western Caribbean cruises are very popular with U.S. guests, who sail from departure cities like Miami, Fort Lauderdale, Tampa, New Orleans, and Galveston.
There are a huge variety of cruise lines that offer Western Caribbean cruises. These fleets include Carnival, Celebrity, Norwegian, Princess, Royal Caribbean, and Holland America.
For the Ultimate Experience, Take a World Cruise Book World Cruise
To truly experience this great planet, there's nothing like a world cruise. And if you love basking in serenity and truly letting go, you'll love languid days at sea between ports. You'll get to know your other shipmates well, and possibly make lifelong friends.
A world cruise can mean a lot of things. There are grand voyages, which is what usually comes to mind. These cruises are often 70 or more nights, and may cross the globe or visit several continents.
A boomerang cruise can also be synonymous for a world cruise. This means you could sail each way of your round trip cruise on a different ship, which provides more variety. There are also off-season voyages. In any case, online research or a cruise agent is the best resource for choosing the right world cruise for you.