Carnival Cruise Line: The Best Value at Sea

Looking for a combination of fun and affordability in a cruise vacation? A Carnival cruise may be perfect for you! Carnival Cruise Line ships offer great values as well as a ton of fun. Carnival, America's most trusted cruise line, sails to many popular destinations, such as the Caribbean, Mexico, Alaska, and the Bahamas.
When you sail with Carnival Cruise Line, you'll depart from convenient ports like Long Beach, Port Canaveral, Jacksonville, and Miami. The newest Carnival Cruise Line ships include the Vista, Horizon, and Breeze. And no matter which ship or itinerary you choose, you're guaranteed the best price!
Book Carnival Cruise Line Now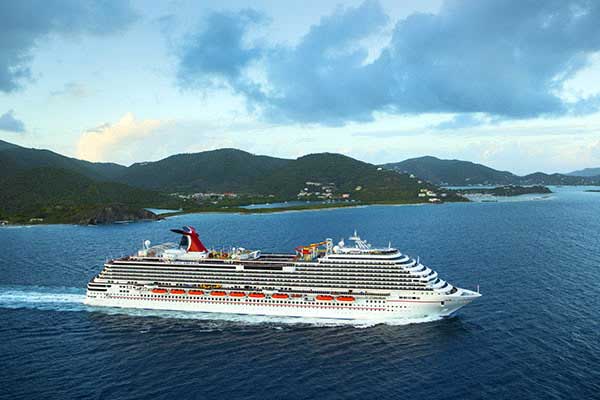 Ship 
Launched 
Pax 
Crew 
Pools 
Bars 
Casino 
Kids Programs 
Carnival Breeze
2012
3,690
1,386
3
11
Yes
Yes
Carnival Celebration
2022
6,500
1,735
6
11
Yes
Yes
Carnival Conquest
2002
2,980
1,150
4
12
Yes
Yes
Carnival Dream
2009
3,646
1,367
4
11
Yes
Yes
Carnival Elation
1998
2,052
920
3
8
Yes
Yes
 
 
 
 
Carnival Firenze
2024
 
 
 
 
 
 
Carnival Freedom
2007
2,974
1,150
4
13
Yes
Yes
Carnival Glory
2003
2,980
1,150
2
12
Yes
Yes
 
 
 
 
Carnival Horizon
2018
3,936
1,450
3
25
Yes
Yes
Carnival Jubilee
2023
 
 
 
 
 
 
Carnival Legend
2002
2,124
930
4
10
Yes
Yes
Carnival Liberty
2005
2,974
1,160
4
12
Yes
Yes
Carnival Luminosa
2022
 
 
 
 
 
 
Carnival Magic
2011
3,690
1,386
3
12
Yes
Yes
Carnival Miracle
2001
2,124
930
4
12
Yes
Yes
Carnival Panaroma
2019
4,008
1,450
3
9
Yes
Yes
Carnival Paradise
1998
2,052
920
3
6
Yes
Yes
Carnival Pride
2002
2,124
930
3
12
Yes
Yes
Carnival Radiance
2020
2,984
1,100
3
8
Yes
Yes
Carnival Spirit
2001
2,124
930
3
8
Yes
Yes
Carnival Splendor
2008
3.006
1,160
4
11
Yes
Yes
Carnival Sunrise
1999/2019
2,754
1,090
3
8
Yes
Yes
Carnival Sunshine
1996/2013
3,006
1,040
3
13
Yes
Yes
Carnival Valor
2004
2,984
1,180
4
10
Yes
Yes
 
 
 
 
 
 
 
 
Fun Never Ends on the Carnival Breeze
Those setting sail on the Carnival Breeze have lots of fun ahead of them.. Kids enjoy supervised activities in Camp Ocean and Club O2 while adults decompress in the Serenity Adult Only Retreat and the Cloud 9 Spa thalassotherapy pool. Looking for excitement? Cruisers of all ages enjoy the thrilling 390-foot Twister Waterslide at Carnival WaterWorks, the water park aboard the Carnival Breeze. Then there's the Thrill Theater, a cinematic immersion event.

Kids will love storytime and breakfast with whimsical Dr. Seuss characters. You'll never have a chance to get hungry — or bored with your choice of cuisine aboard the Carnival Breeze. Mexican, Italian, Japanese, American, and steakhouse offerings are available, in addition to casual dining, like Guy's Burger Joint or Fat Jimmy's C-Side BBQ.

Homelike Carnival Breeze staterooms come with free room service and some categories offer perks: Cloud 9 Spa Ocean View rooms grant priority access to relaxation.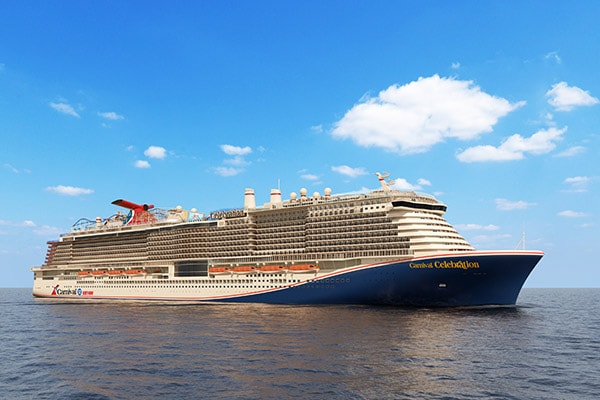 Ride First Rollercoaster at Sea on Carnival Celebration
Between destinations, you'll have an incredible time on Carnival Celebration. Ride the first-ever rollercoaster at sea or race a friend on the two-track SkyRide, on which you'll have a bird's eye-view while pedaling. If that's not enough, take the kids and splash down hundreds of feet of waterslides! Then there's mini golf, swimming, basketball, volleyball, and the thrilling obstacle course.
But Carnival Celebration isn't done. Laugh the night away at the comedy club, enjoy a variety of exciting live shows, and if you want to chill out, hang out in the Serenity Adult Only retreat with day beds and bar.
Dining on Carnival Celebration has truly something for every taste, such as teppanyaki, seafood, sushi, steak, Guy Fieri's burgers and mouthwatering barbeque, or even Shaq's friend chicken joint, Big Chicken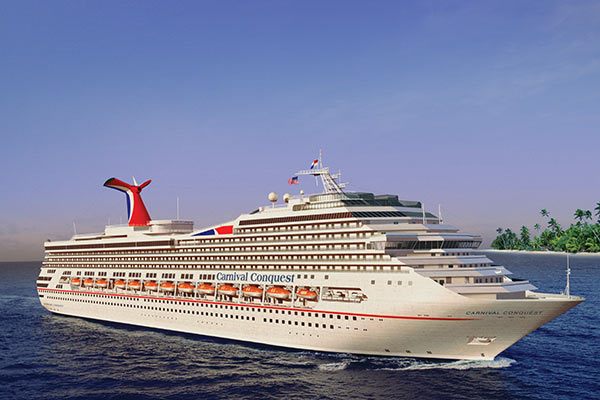 Carnival Conquest Brings a Celebration to the Sea
Book Now
The Carnival Conquest sails for fun, short getaways as well as extended cruises. Dine and drink at several delicious spots, like the BlueIguana Tequila Bar, RedFrog Rum Bar, SKYBOX Sports Bar, and Alchemy Bar.

It's time to play! Guests of every age enjoy comedy shows and Playlist Productions Broadway-style shows. Got a few little ones but want to dance the night away? The Night Owls activity program will make sure the kids are occupied while you take a little me time. And don't forget CLUE: The Murder Mystery, where you can try to solve a game while collecting clues onboard.

Nosh anytime, day or night. You have plenty of choices, from casual to fine dining. Want a VIP experience? Book a seat at The Chef's Table with a select group of 14; you'll even tour the galley kitchen and savor a menu found nowhere else aboard the Carnival Conquest.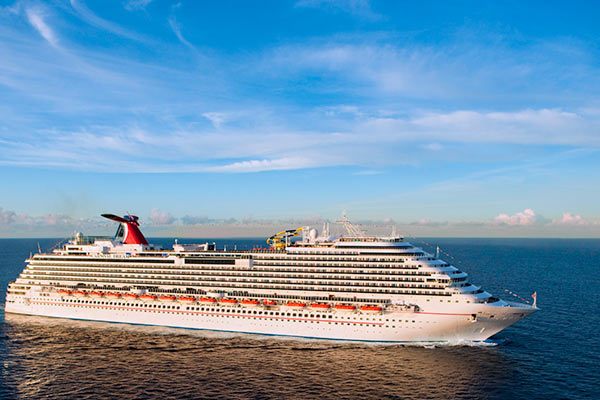 Your Travel Wish Will Come True aboard Carnival Dream
Book Now
Picture the perfect cruise vacation in your mind. For countless families, couples, and groups, the easiest way to make it a reality is a Carnival Dream cruise. There really is something fun – or more like, too many fun options to name – for everyone.

But let's whet your appetite for the great things to come on a Carnival Dream cruise. Dig into Italian dishes at Pasta Bella or Pizza Pirate. Don't miss the Oceanside BBQ, nor the Mongolian Wok or the Steakhouse. Naturally, most venues have a great kids' menu.

Expect entertainment, and entertaining ways to relax, around every corner on the Carnival Dream. Highlights for kids include Camp Ocean, Seuss at Sea, and The Cherry On Top. Adults will find bliss at Cloud 9 Spa, BlueIguana Tequila Bar, the Punchliner Comedy Club, and RedFrog Rum Bar. Of course the young and the young at heart can all come together to enjoy the pools, the slides at WaterWorks, and Dine-In Movies.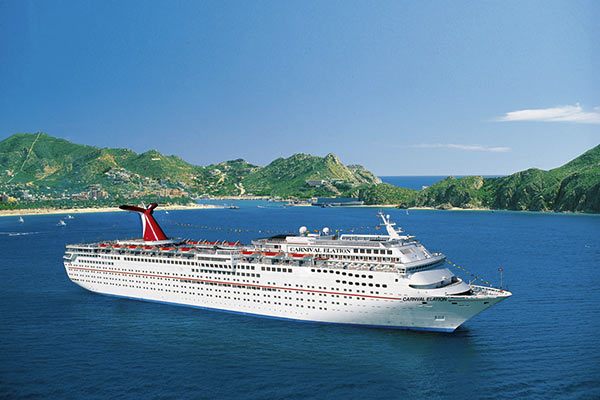 The Carnival Elation is a True Oasis
Book Now
Sail away on the Carnival Elation for a celebratory cruise or quick getaway. On the way to sugar-white sand beaches, splash down the Elation's Twister Waterslide — or watch the fun from the bubbling hot tub.

Looking for a little fun at sea? Win prizes at Hasbro, The Game Show, an interactive game show version of your favorite board games. Yuck it up at the Punchliners Comedy Club, or enjoy live tunes at the Piano Bar.

Spa Carnival offers a chance to get away from the party and hectic pace of life. Grab a book or magazine and swing in a hammock at the Serenity Adult Only Retreat. Teens can get in on spa day fun at their own oasis, ZSPA.

Hungry? The Carnival Elation offers little plates at The Taste Bar, and even 24-hour pizza and room service. There's also the Mongolian Wok for stir-fried Asian flavors.
Indulge in the Finest Amenities on Firenze Cruise Ship. Book Now
Carnival Cruise Line is adding a new Italian-style ship to its fleet in spring 2024: Carnival Firenze. Originally built as Costa Firenze in 2021, the Vista-class vessel was designed to cater to Chinese passengers but has since been transferred to Carnival and renamed. With 4,072 passengers and 1,278 crew, the 135,000 gross ton ship will offer a range of year-round sailings from Long Beach, California, to Baja and the Mexican Riviera. Carnival Firenze will feature an opulent atrium modeled on Florence's main square, Piazza della Signoria, outdoor spaces including the adults-only Giardino Delle Rose and chic Fashion Bar, and 13 restaurants & seven bars & lounges. Signature Carnival eateries such as Teppanyaki, the Seafood Shack, and the Fiorentina Steak House can be expected, plus Italian-style restaurants, a Pizza Napoli, and a Dolce Vita ice-cream parlor. The ship will boast a theater, La Laguna Aqua Park, four pools (including one with a retractable roof), a kids' club, teen zone, al fresco fitness area, jogging track and spa. Cabin-wise, you can expect 2,136 cabins and suites ranging from 153-square foot interiors to suites measuring up to 327 square feet. Christine Duffy, President of Carnival Cruise Line, said: "We embark more guests from California than any other cruise line, and soon Carnival Firenze will provide a great new option for them." Carnival Firenze will no doubt bring "Carnival Fun Italian Style" to its passengers, with the ship's spectacular Italian atmosphere.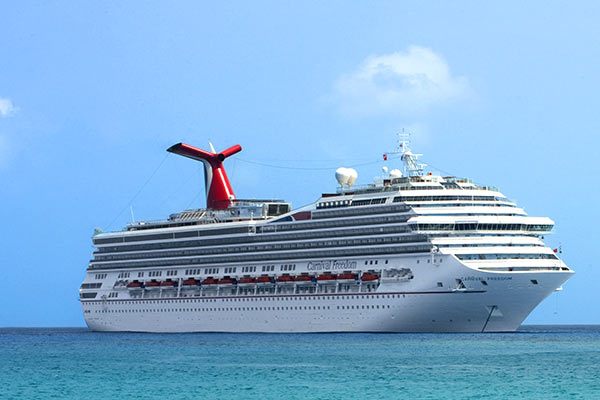 Carnival Freedom Offers Tons of Food & Fun
Book Now
The Carnival Freedom offer comfortable staterooms that serve as your home base as you sail to your exciting destinations. Feed your hunger aboard the Carnival Freedom with of delicious choices! Get a cheesy pie at Pizza Pirate, a juicy burger at Guy Fieri's Guy's Burger Joint, or nosh on burritos at the BlueIgana Cantina. After dark, explore a little libation magic at the Alchemy Bar or cut the rug at the 70's Dance Club. The RedFrog Pub is the place to be for live music and pub games.

Adults on the Carnival Freedom get in some me time at the 18+ Serenity Retreat to chill in hammocks. Kids go nuts for the Twister Waterslide and hang out in the new Camp Ocean for fun and enriching activities. For kids of all ages, Hasbro, The Game Show offers a chance to win prizes.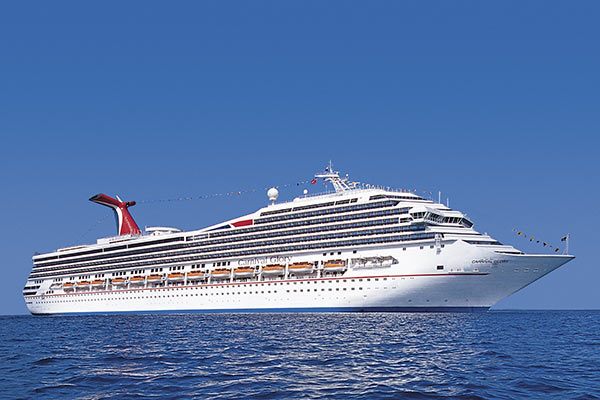 The Carnival Glory is Affordable & Joyful
Book Now
The Carnival Glory is an affordable way to take a vacation with the family, see the islands, work on that tan, and leave your cares on the shore.

As you sail to tropical ports, you'll experience a joyful time on the Carnival Glory. You won't miss the big game at the SKYBOX Sports Bar, and the Twister Waterslide is fun for both kids and adults alike.

Savor surf n' turf at the specialty Steakhouse or go for casual finger food at Fish N' Chips to quash that hunger. Guy's Burger Joint offers mouth-smackin' sandwiches, while the Chef's Table caters to guests looking for an exclusive, fine dining experience on the Carnival Glory.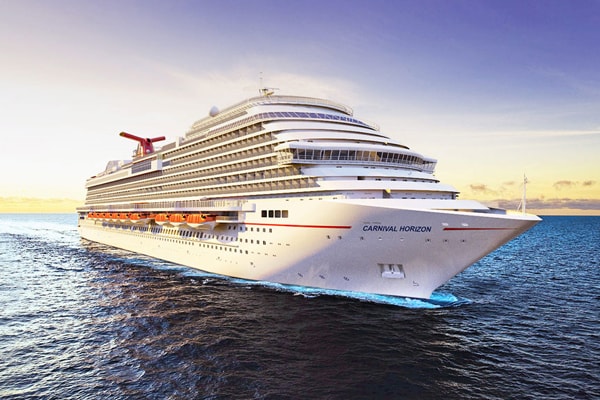 The Thrilling Carnival Horizon
Book Now
Carnival Horizon brings the fun in a huge way. There is an IMAX Theatre, the thrilling SkyRide, and SportSquare with an endless amount of ways to play — soccer, volleyball, mini-bowling, a ropes course, and even a suspended bike course.
Kids will adore the Carnival Horizon for many reasons, but the colorful, twisty waterslides at Dr. Seuss Waterworks will top the list. Adults will love the Havana Bar & Pool, which serves up dancing and mojitos, as well as the adults-only Serenity Retreat. You can count on pure relaxation at the Cloud 9 Spa.
When you're hungry, Carnival Horizon has you covered with the Seafood Shack, Fahrenheit 555 Steakhouse, Bonsai Sushi, Guy's Burger Joint, and so much more.
Embark on an Unforgettable Carnival Jubilee Cruise 
Book Now
In October 2023, the 5,400-passenger Carnival Jubilee will join Carnival Cruise Line's Excel-class fleet, making it the largest Carnival ship based at the Texas port of Galveston. This floating city will feature six themed indoor areas, the first-ever roller coaster at sea (BOLT), 20 different cabin categories, and a three-deck atrium. Carnival is also committed to sustainability and emissions reduction, making Jubilee the first Carnival ship to be powered by liquefied natural gas (LNG). Carnival has promised some surprises onboard Jubilee that will be revealed at a later date. Its maiden voyage will be a six-night Western Caribbean itinerary from Galveston, departing December 23, 2023 and featuring stops in Cozumel and Costa Maya, Mexico, and Roatan Island, Honduras. Weighing in at 182,800 gross tons, Carnival Jubilee will carry 5,400 passengers at double occupancy and be staffed by 1,700 crew. Don't miss the chance to be one of the first onboard this exciting new vessel!
 The Carnival Legend Thrills With Onboard Adventure
Book Now
The Carnival Legend offers lots of adventure onboard while you voyage to your next port. Kids love the great activities in fun Camp Ocean and the opportunity interact with Dr. Seuss characters while adults enjoy the peace and relaxation of the Serenity Adult Only Retreat. Everyone loves the water slide at WaterWorks, the onboard waterpark.

Hungry? The Carnival Legend offers so many dining choices, like the specialty steakhouse, Lido Restaurant, Swirls, Chef's Table, and Bonsai Sushi.

Make the most of your journey aboard the Carnival Legend in a suite. You'll be able take advantage of the sights while also enjoying amenities like a balcony, VIP check in, or even your own whirlpool tub.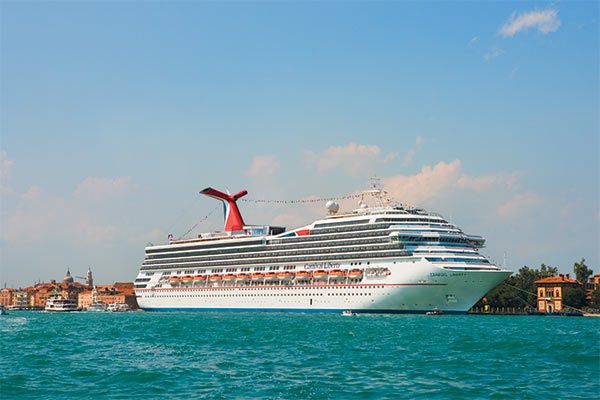 The Carnival Liberty is Fun For Everyone
Book Now
The Carnival Liberty is beloved by repeat cruisers who don't want to break the piggy bank. There's so much to see and do aboard this ship, from the onboard water park, to Punchliners Comedy Club, to Suess at Sea, where kids get to interact with Dr. Suess characters!

If you're in the mood for a drink on the Carnival Liberty, sip a slushy tequila concoction at Alchemy Bar. Love sports? Catch the game at the SKYBOX Sports Bar. For a more laid-back time, head to the RedFrog Rum Bar, or get a savory taste of Asia at Mongolian Wok. Sample the best of Mexico with tacos, margaritas, and burritos at BlueIguana Cantina.

Grab the kids and thrill down the Twister Waterslide on the Carnival Liberty's top deck. Let the little ones play at Camp Ocean while you get a well-earned massage — or escape to the peace of the Serenity Adult Only Retreat.
Experience the Splendor of Carnival's Luminosa Cruise Ship
Book Now
Carnival Luminosa is the newest addition to the Carnival Cruise Line fleet. Joining in the fall of 2022, the 2,260-passenger vessel has undergone a major refit to bring it in line with the Spirit-class ships, including the addition of the signature red, white and blue hull livery. Aimed at families, couples and solo cruisers, Carnival Luminosa offers eight levels of staterooms, ranging from 13.65 square metre Interior stateroom to 68.09 square metre Grand Vista Suites. Public spaces are bright and breezy, with entertainment such as Playlist Productions, The Punchliner Comedy Club, Limelight Lounge, Piano Bar 88, and a variety of onboard dining options. Cloud 9 Spa and Serenity Retreat are adult-only areas with a pool, whirlpool and sun deck, while kids will love Camp Ocean, Circle C and Club 02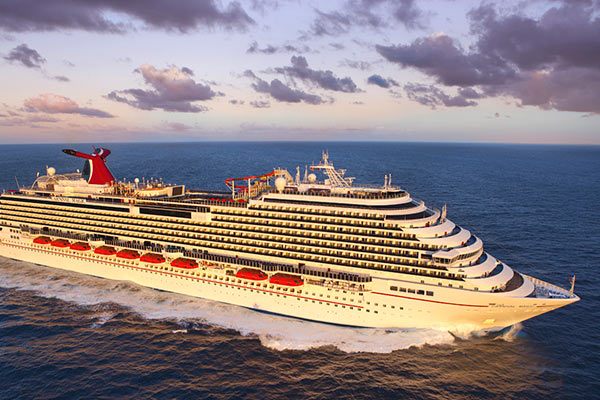 Prepare to be Amazed aboard the Carnival Magic
Book Now
If you can't believe your eyes and get goose bumps every day aboard the Carnival Magic, it's perfectly normal. Thrills and fun frills make for delightful surprises around every corner, all of which earned this state-of-the-art ship its name.

Feast in a wide variety of dining venues aboard the Carnival Magic. Celebrity chef Guy Fieri is the grill master behind Guy's Burger Joint menu as well as with Guy's Pig & Anchor Bar-B-Que. Sink your teeth into succulent filets at the Steakhouse or go for more global fare at the Mongolian Wok and the BlueIguana Cantina. Many more eateries await – that was just a taste!

There are so many ways to have a ball aboard the Carnival Magic. Sing along and dance at the Playlist Productions shows. Watch movies and live entertainment at the Carnival Seaside Theater. Kids will never forget Camp Ocean or the Seuss at Sea experiences, and you will always remember unwinding in the Serenity Adult-Only Retreat and the Cloud 9 Spa. From the RedFrog Pub or the Alchemy Bar, raise a glass to make a toast to your amazing vacation.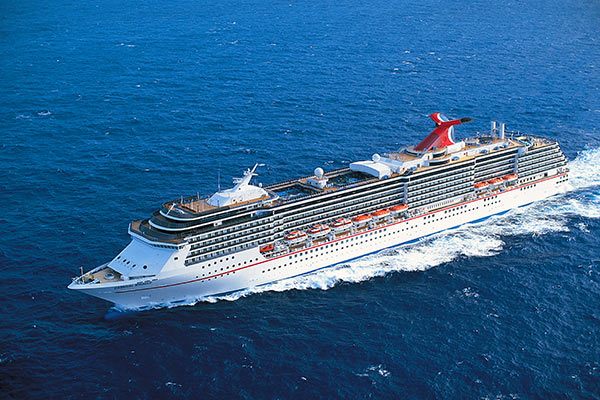 The Carnival Miracle Delivers Wonder
Book Now
The Carnival Miracle displays elements of the fantastic to delight your eyes. Dance your cares away to live tunes at Dr. Frankenstein's Lab or Sam's Piano Bar. Thirsty? Sip on man-made miracles at the Alchemy Bar or Odyssey Bar or catch a Broadway-style extravaganza at the Phantom Lounge. Watch your favorite board games come alive at Hasbro, The Game Show, where you can team up and win prizes.

When your stomach rumbles, the Carnival Miracle is ready. From prime cuts at Nick & Nora's Steakhouse to the culinary flair of the Bacchus and Ariadne dining rooms to Horatio's casual eats, you're covered.

Catch a game at SKYBOX Sports Bar, or head to the laid-back RedFrog Pub for a taste of Caribbean island cool. When you're ready for more fun, head to the Carnival Miracle's Twister Waterslide. For something a bit more chill, the Serenity Adult-Only Area offers up comfy lounge chairs and sigh-inducing hammocks.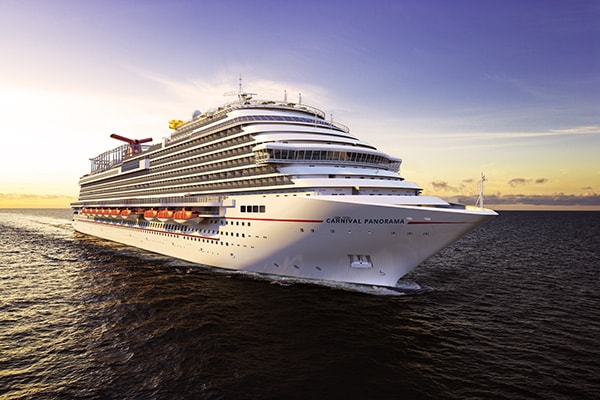 Get a New View Aboard Carnival Panorama
Book Now
Old Carnival ship favorites as well as new experiences collide aboard Carnival Panorama, the latest in the Vista ship class. If you love breathtaking views, hop aboard the SkyRide, an 800-foot-long, top-deck trip!
Carnival Panorama guests can also look forward to the huge water park, as well as tons of lounges, bars, and entertainment and dining options — like the popular Bonsai Teppanyaki, and new Seafood Shack, a New England-inspired eatery. Kids love the Suess at Sea program, and adults find solace in the Serenity Retreat area. Guests of every age flock to the IMAX theater and SportSquare, which offers video games, mini-bowling, arcade basketball, and more.
Carnival Panorama features specialty staterooms for a more distinct experience. Cloud 9 Spa rooms offer deluxe bath amenities, spa reservations, fitness classes, and complimentary use of the Thalassotherapy Pool and Thermal Suite. Colorful Havana rooms feature exclusive access to the Havana Pool & Bar.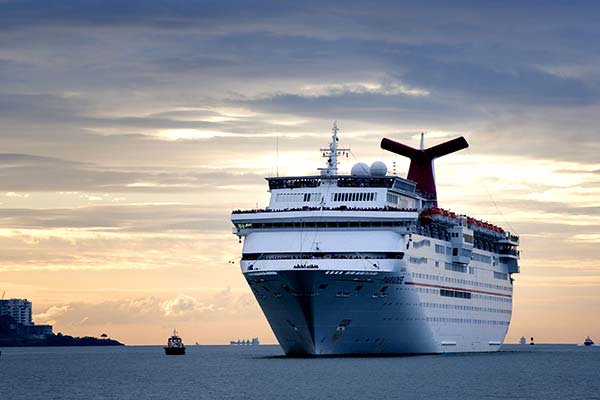 Expect Excitement on the Carnival Paradise
Book Now
Everyday at sea, the Carnival Paradise offers duty-free shopping, all-you-can-eat dining, and non-stop fun. While you float toward your next oasis, there's plenty of watersports to keep you busy. Splash down the Twister Waterslide, bathe tired muscles in a hot tub, or go for a swim in the pool.

When it's time to eat, the Carnival Paradise has a huge range of options. Enjoy little dishes with tons of flavor at The Taste Bar. The a la carte, 24-hour Lido Restaurant has you covered anytime day or night.

The little ones will go nuts for Seuss at Sea, which features an interactive story time and parade with beloved Dr. Seuss characters.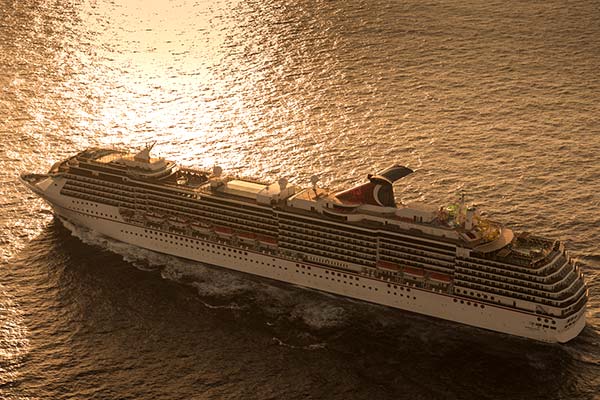 The Carnival Pride Does it All
Book Now
The Carnival Pride offers something for everyone, whether it's a convenient port, cruise length, or destination. Likewise, there's a lot to do on the Carnival Pride for guests of every age. When the kids and teens want their own hotspots, they head to Club O2, Circle "C" and Camp Carnival. The Cherry on Top candy store may lure them — or you — in for some sweet times.

Dance the night away at Beauties Dance Club, or take in a vibrant performance from Playlist Productions. Escape at the adults-only pool with retractable roof. For more excitement, head to the Carnival Pride's waterpark, Carnival WaterWorks. Dr. Seuss characters come alive at the Carnival Seaside Theater™.

Hungry? How about California rolls at Bonsai Sushi or sizzling cuts at David's Steakhouse? For casual eats, check out Guy's Burger Joint or Blue Iguana Cantina.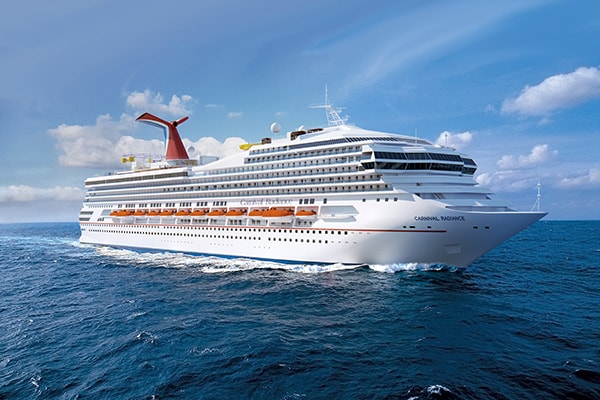 Carnival Radiance Shines with Multi-Million Upgrades
Book Now
Wow. Carnival Victory is being transformed into Carnival Radiance to the tune of $200 million. Guests can expect new additions like more staterooms, an arcade, Piano Bar 88, Redfrog Pub, Fahrenheit 555 Steakhouse, Big Chicken, and Serenity Adult Only Retreat.
Love waterparks? Carnival Radiance has WaterWorks, with massive waterslides — two over 200 feet long! Or if you have energy to burn, check out the super-fun rope climbing course and mini-golf area. There's tons of live music, too, and so many places to dance. Thirsty? Enjoy the mixologist competitions!
Carnival Radiance has lots of fun in store for every member of the family. Cloud 9 Spa provides relaxation for adults, but you can also mingle at the Mega Deck Party, The Punchliner Comedy Club, teen hangout Club O2, and Seuss at Sea!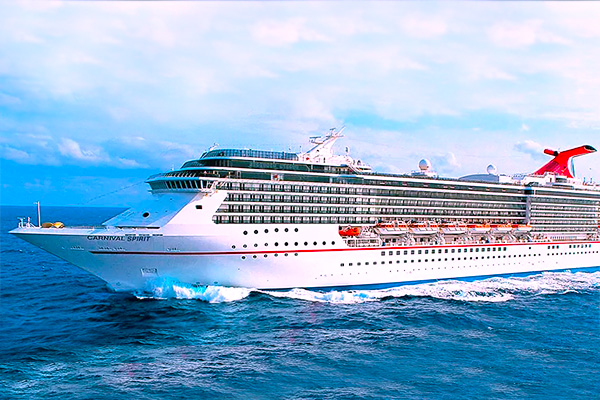 Carnival Spirit Entertains & Delights
Book Now
If you're looking for something fun to do with your partner or want a new setting for a family reunion, consider a cruise aboard Carnival Spirit. You can shop for souvenirs between ports in the boutiques, try your luck in the casino, or hang out in the hot tub while watching the sunset. You'll find kids and adults playing all sorts of exciting games in the arcade.
No matter what age you are, you'll never be bored on Carnival Spirit. Take the kids to Hasbro, The Game Show, Green Eggs and Ham Breakfast, or enjoy some splashy fun in the pool and thrilling waterslides at WaterWorks. 
If you need some "me time," the spa and the Serenity Adult-Only Retreat offers sanctuary aboard Carnival Spirit. In the mood for entertainment? Choose from comedy shows, movies by the pool, the fun Lip Sync Battle: Carnival, or live theater. Teens and kids have their own clubs, too!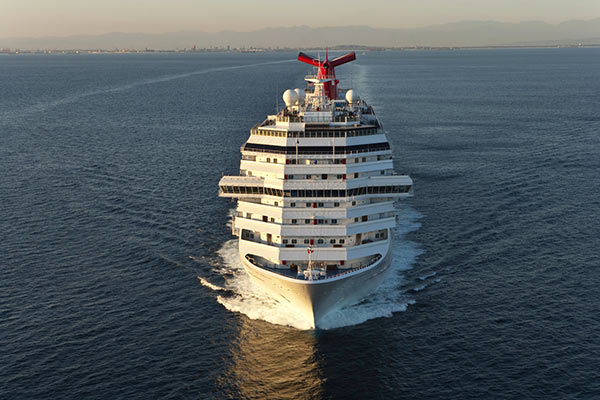 Carnival Splendor Provides Inexpensive Fun
Book Now
If you're looking for a fun and easy getaway, embark on the Carnival Splendor.

The Carnival Splendor offers interesting dining choices such as Tandoor, which has a traditional clay oven. For something low-key, head to the Burrito Bar. Indulge in juicy steaks at the Pinnacle Steakhouse or try tapas at The Taste Bar. How about a Seaside Brunch featuring French toast and huevos rancheros?

Kids of every age love the Splash Park and Carnival Twister Waterslide, but if you're in need of relaxation, the Cloud 9 Spa and Thalassotherapy pool awaits. Nighttime fun is plentiful on the Carnival Splendor. The El Morocco Lounge is home to karaoke and comedy shows. For hot tunes and cold drinks, head to the jazz club.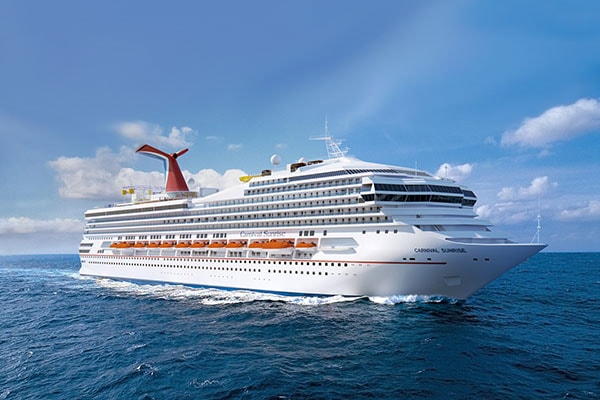 Everything is Sunny on the Carnival Sunrise
Book Now
Formerly the Carnival Triumph, Carnival Sunrise sets sail with all kinds of updates, additions, and refurbishments that everyone can enjoy. Take in tons of live entertainment, like musicals, Hasbro, The Game Show, and CLUE: The Murder Mystery. Love Dive-In Movies at the pool? You got it.
No matter what you crave, Carnival Sunrise offers tons of places to dine! Check out the Redfrog Pub, Fahrenheit 555 Steakhouse, BlueIguana Cantina, Guy's Burger Joint, Seafood Shack, Bonsai Sushi, and Lido Restaurant.
Keep the little ones entertained aboard Carnival Sunrise with the Build-A-Bear Workshop At Sea, or the Suess-a-Palooza Parade or Story Time. Don't forget about the Night Owls program for when you want to enjoy some "me time" during the evening. There's also the Serenity Adult Only Retreat and Cloud 9 Spa for a soothing escape.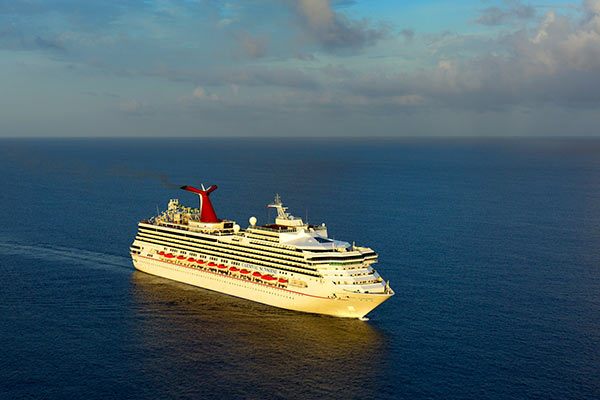 The Carnival Sunshine has it all
Book Now
The Carnival Sunshine offers lots of itineraries, as well as enormous adults-only Serenity oasis. Settle under the sun in your choice of recliners over three decks — and even gaze at a soothing waterfall.

There's plenty more to do while at sea on the Carnival Sunshine, like the awesome waterpark and thrilling Speedway Splash slide. Stay in shape at SportSquare, where you can play volleyball, mini golf, ping pong, or spar against a punching bag. The little ones will love interacting with Dr. Suess characters during story time or the Green Eggs and Ham Breakfast.

When it's time to eat on your Carnival Sunshine cruise, hit up Guy's Burger Joint. Turn up the heat at Blue Iguana Cantina or dine on sizzling steaks at Fahrenheit 555 Steakhouse. Thirsty? Head to the pub, tequila bar, sports bar, Alchemy Bar, or Havana Bar!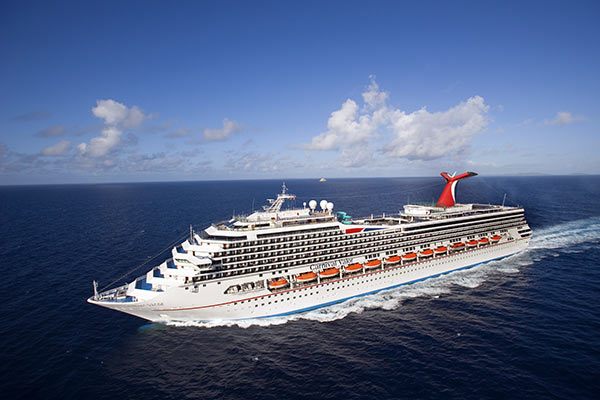 All Aboard the Carnival Valor
Book Now
Sail aboard the Carnival Valor for fun-filled voyages with your friends and family. You'll be entertained the whole way — how about a few trips down the 214-foot Twister waterslide spanning four decks? Laugh away your cares at Punchliners Comedy Club and indulge your sweet tooth at Cherry On Top.

The kids will love interacting with Dr. Suess characters on the Carnival Valor — and even have breakfast with them. Watch your favorite teams at SKYBOX Sports Bar or sip cocktail magic at the Alchemy Bar.

The Carnival Valor offers a variety of dining choices, like surf n' turf at Scarlett's Steakhouse, tacos and burritos at the Blue Iguana Cantina, and Caribbean bites at the Red Frog Pub.
Unforgettable Cruise Adventure Aboard Carnival's Venezia
Book Now
Carnival Cruise Line is set to welcome a brand new ship to its fleet in Spring 2023, Carnival Venezia. Built in 2019 as Costa Venezia, the 4,072-passenger vessel will be the first to operate under the 'Carnival Fun Italian Style' banner. The ship will sail year-round from New York City and offer guests a classic Italian experience, from Italian architectural design and sculptures, to delicious Italian dishes from the Cucina del Capitano Italian restaurant. Carnival Venezia boasts a three-level atrium modelled after Venice's Piazza San Marco and an innovative Lido Deck inspired by Italy's Riviera, complete with a retractable Magrodome roof for use in cooler months. Guests can also enjoy classic Carnival venues such as Fahrenheit 555 steakhouse, Bonsai Sushi & Teppanyaki, and the Chef's Table, alongside all-new Italian specialty dining. Bars and lounges offer classic Italian liqueurs and bitters, alongside Italian beer and bubbly. The Carnevale Bar & Lounge is inspired by Venetian masquerades during the carnival season and the Gondola Lounge takes its influence from the city's iconic canals.
The ship's 2,116 cabins and suites range from 150-square-foot interiors to suites measuring up to 356 square feet, and feature mini-bars and U.S. power outlets. There are also 77 new Terrazza staterooms, available as interiors, balconies and upscale cabanas, offering private patios with loungers and a hammock. Carnival Venezia will set sail for the first time under its new name on May 29, 2023, on a one-off transatlantic crossing from Barcelona to New York. After this, the ship will offer a selection of 3- to 10-night round-trip cruises to Canada and New England, Bermuda, the Eastern and Western Caribbean and the Bahamas. Experience all that Carnival Venezia has to offer and book your next cruise now.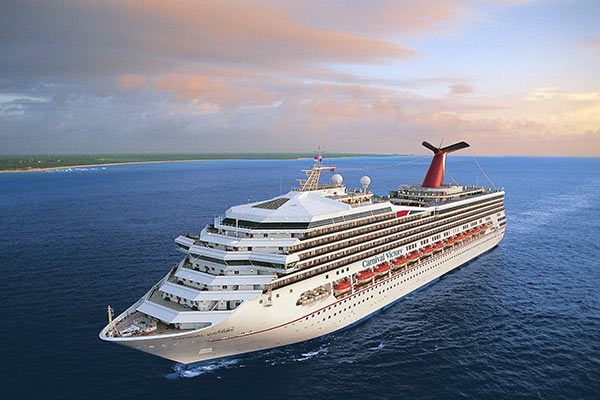 The Carnival Victory Wins at Fun
Book Now
Carnival Victory guests love stepping onboard and having fun immediately at any time of the year. There's even a special cruise starring the live talents of funnyman Jay Leno.

On your way to the tropics, the Carnival Victory will keep you entertained and your belly full. Watch a movie beneath the stars, go for a swim, or sail down the awesome Twister Waterslide. If you're hungry, take a break at the 24-hour Pizza Pirate or head to Chopsticks for Asian fare. Feeling fancier? The Chef's Table offers a major culinary experience for a handful of guests.

All Carnival Victory staterooms are affordable, so why not see the sights in style with a balcony, or a suite? Imagine having breakfast on your own personal deck while pulling into your dream destinations. The choice is yours.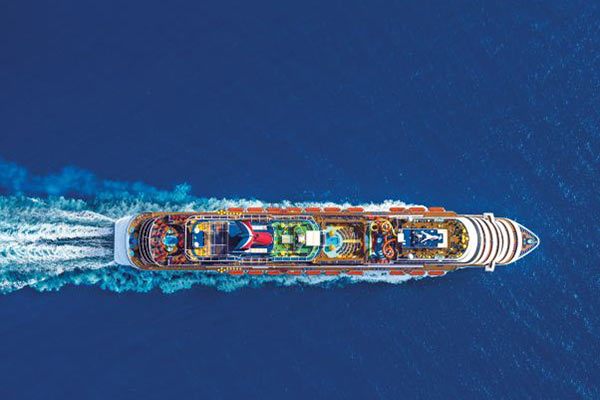 Your Vacation is on the Horizon with the Carnival Vista
Book Now
The Carnival Vista offers great fun to the whole family. Havana category staterooms allow access to the members-only Havana Bar & Pool. Likewise, Cloud 9 staterooms grant priority spa reservations, free fitness classes, and thermal suite unlimited access!

Hungry? Dine on the treasures of the sea at the Seafood Shack or savor prime cuts at Fahrenheit 555 Steakhouse. In a Zen mood? Bonsai Sushi's soothing décor and cuisine fit the bill. Grab la familia for the Italian farmhouse dishes at Cucina del Capitano.

Get ready for something incredible. The Carnival Vista has a SkyRide. Sail above the deck and wave to friends below as they play ping pong, volleyball, mini golf, and more at the SportSquare game area.

Where will you go on the Carnival Vista? The choice is yours — you can even book a special cruise featuring the standup comedy of Jay Leno.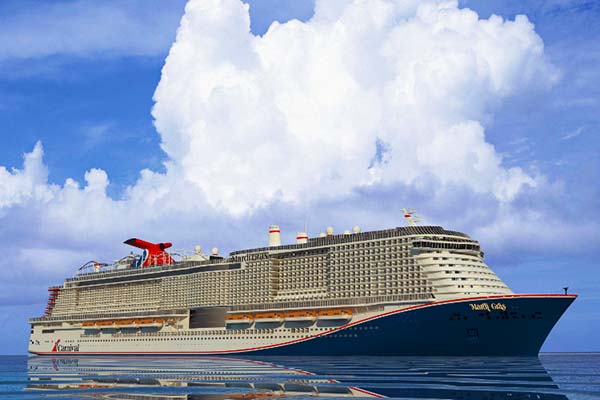 Mardi Gras is Non-Stop Fun
Book Now
How much fun can you handle? Mardi Gras offers thrilling experiences, including the first-ever roller coaster at sea! There are also six themed neighborhoods: Grand Central, French Quarter, Lido-Pool, La Piazza, Summer Landing, and The Ultimate Playground. Plus, enjoy the huge SportSquare area and three big waterslides in Carnival WaterWorks.
Mardi Gras truly accommodates with 22 cabin categories. For instance, Family Harbor staterooms come with a free night of Night Owls babysitting service. Plus, your little ones eat free in most specialty restaurants, and an exclusive area offers games, movies, breakfast, and snacks. Cloud 9 Spa staterooms offer priority spa reservations, unlimited thermal suite access, and more. Havana staterooms boast rain showerheads and a members-only bar and pool with cabanas. 
There are so many places to dine aboard Mardi Gras, such as Bonsai Teppanyaki, Bonsai Sushi, Guy's Pig & Anchor Smokehouse, Guy's Burger Joint; Seafood Shack, and BlueIguana Cantina.