Azamara Club Cruises Offer Small Ships, Huge Experiences
Book Disney Dream Now!
Sail with Azamara Club Cruises and live the Boutique Life on the Azamara Journey, get pampered on Azamara Pursuit and receive comfort fit for a King or Queen on the Azamara Quest.
When you sail with Azamara Club Cruises, you can look forward to experiencing ports of call that you normally couldn't reach with a larger cruise line. That's because Azamara's fleet is smaller and able to dock in exotic destinations such as the Troll Fjord in Norway, Hong Kong, St. Barts, and Sicily. Want to visit Bali or see the Great Barrier Reef? Azamara has an incredible itinerary that's got you covered — and that's just one jaw-dropping voyage out of many.
Cruise with Azamara Club Cruises, and you can look forward to more time spent in each destination. Wouldn't it be nice to not feel rushed and really get to experience your hard-earned vacation? You also won't need to worry about gratuities; they're included, as are international wines, spirits, and beer.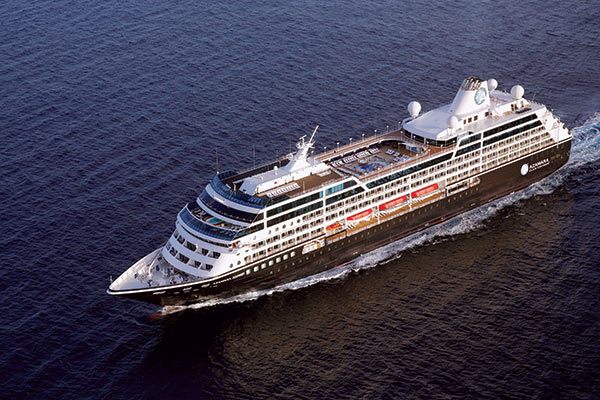 Live the Boutique Life on the Azamara Journey
Book Azamara Journey Now!
The Azamara Journey boasts the sleek style, comfort, and fabulous amenities you might find in a boutique hotel. 24-hour room service is standard, but you'll also enjoy plush cotton robes and slippers, luxurious bed linens, French bath products, fresh-cut flowers, a welcome fruit basket, nightly turndown treats, and more.
Need some peace and relaxation? The Sanctum Spa aboard the Azamara Journey offers restorative treatments such as facials and oceanfront massages, in addition to acupuncture treatments, salon and barber services, and teeth whitening. Feel like attending fitness and nutrition classes? They're complimentary. You can even sign up for personal training.
The two specialty restaurants aboard the Azamara Journey are the celebrated steakhouse Prime C, and Aqualina, which serves multi course Italian. These restaurants are complimentary if you're in a suite, or available for a nominal charge otherwise.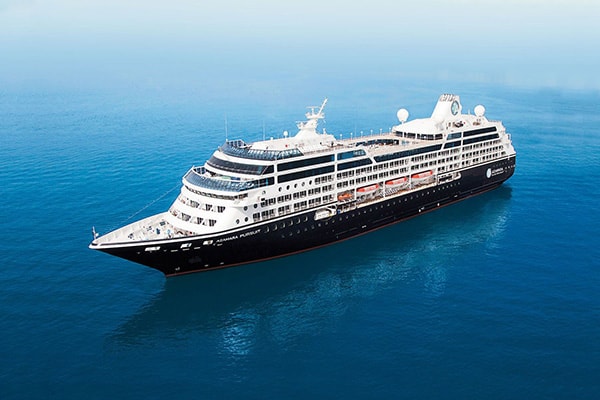 Be Pampered on Azamara Pursuit
Book Azamara Pursuit Now!
Premium adventure is the name of the game aboard Azamara Pursuit. A sister ship to Azamara Journey and Azamara Quest, this vessel promises plenty of leisure and discovery, with more time in far-flung locales. When not in port, relax in the pool or whirlpool, or burn off some calories in the fitness center.
Lounges with interactive tabletops are standard aboard Azamara Pursuit, and the library offers a peaceful setting and piano. Love being pampered? The Sanctum Spa not only offers spa services and products, but a Thalassotherapy pool, nail bar, salon, barber services, teeth whitening, a medi-spa, and acupuncture clinic!
Dining aboard Azamara Pursuit is a grand pastime. Italian-inspired cuisine wows at Aqualina, there isn't a bad seat in the house at Windows Café, and steaks and seafood are front and center at Prime C.
Comfort is King on the Azamara Quest
Book Azamara Quest Now!
Staterooms and suites — most with verandahs — aboard the Azamara Quest are luxurious and spacious with wonderful amenities. You can look forward to luxurious sheets, terry bathrobes and slipper, fresh flowers, a tote bag, a welcome fruit basket, and more. Friendly, attentive staff will ensure your cruise is amazing, and you'll never feel crowded or rushed.
The Sanctum Spa aboard the Azamara Quest offers so much more than facials and massages — although you can enjoy hot stone therapy with an ocean view. Acupuncture treatments, body sculpting, and even teeth whitening, are on the menu.
Speaking of which, the Azamara Quest amazes guests with dining choices. From casual dining to specialty restaurants to room service, you can get just about anything. Prime C cooks up exquisite steaks while Aqualina serves contemporary Italian dishes, and the Wine Cellar offers tasting galore.
Looking for some fun? There are many ways to be entertained onboard, from gambling to Cabaret Lounge performances. You can even enjoy a White Night party and buffet with live music.