AmaWaterways Boasts Highest-Rated River Cruise Ships
Book AmaWaterways Now!
AmaWaterways offers an impressive 16 ships for the river cruiser — as well as a way to take in the sights from a different view. Why not travel on the highest-rated river cruise line in Europe? Additionally, AmaWaterways offers river cruises in Asia and Africa.

AmaWaterways makes river cruising easy, fun, and luxurious. Staterooms are spacious and each offers not one, but two private balconies. That means you can look forward to beautiful panoramic views!

Normally, food and drink is included in your fare. However, AmaWaterways provides lots of exciting extras. Want to dine in a specialty restaurant? That's included. Enjoy fine wine and beer with your meal, no charge. How about a shore excursion in every port? You got it. If you feel like exploring your destination, you can even take a free bicycle.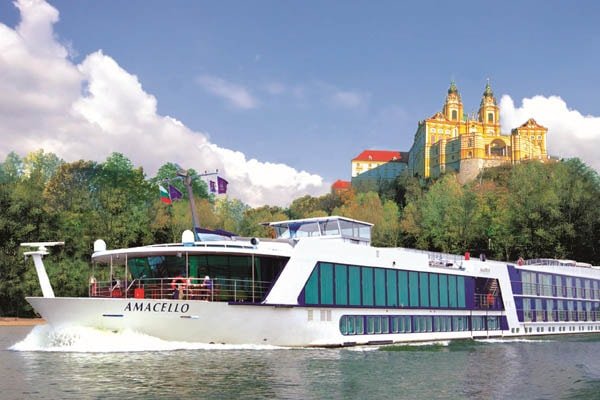 Life is a Song Aboard AmaCello Book AmaWaterways AmaCello Now!
Guests who choose a river cruise on AmaCello find themselves delighted every day and night. Live music sings in the lounge every evening, whether its soothing piano melodies, a local quartet, or even Bavarian tunes.

Dining aboard AmaCello is a savory experience, from the mouthwatering tapas in the lounge between meals, to the award-winning cuisine in the main restaurant and The Chef's Table Restaurant. After a day exploring port or taking a guided bicycle tour, decompress with a massage, in the bubbling whirlpool on the sun deck, or watch the stars and scenery float by.

AmaCello staterooms and suites offer generous space and comfort with French balconies. Every room has deluxe, hotel-style bedding, large bathrooms with multi-jet showerheads, and flat-screen TVs with free Internet and entertainment on-demand.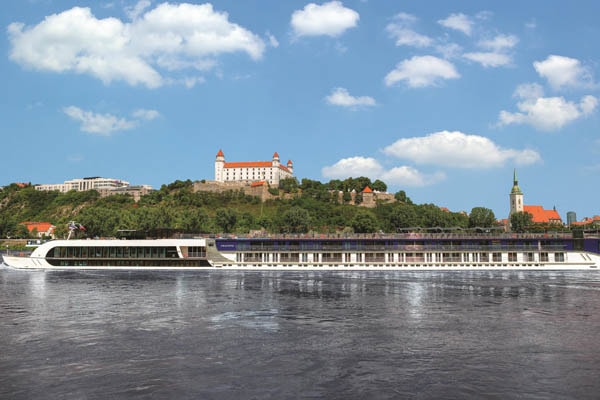 AmaCerto is Pure Elegance Book AmaWaterways AmaCerto Now!
River cruising is a dream on AmaCerto. The décor throughout the ship is rich, yet modern and comfortable. As one of the ship centerpieces, the grand glass elevator shines. Staterooms offer a variety of amenities, including: twin balconies; flat-screen TVs with entertainment on-demand and first-run Hollywood movies; Egyptian linens, free Internet access; and of course, lots of space. Suites offer up to 300 square feet of privacy.

When you're not exploring fantastic destinations, AmaCerto is your floating resort. The heated pool is a prime place to relax and even offers a swim-up bar. The sun deck is a great place to catch some rays while reading a book or star gazing.

Guests sailing AmaCerto enjoy culinary works from Chaîne des Rôtisseurs, the oldest, largest food and wine society worldwide. Work off those gourmet meals in the onboard fitness center or borrow a bicycle from the ship to explore port.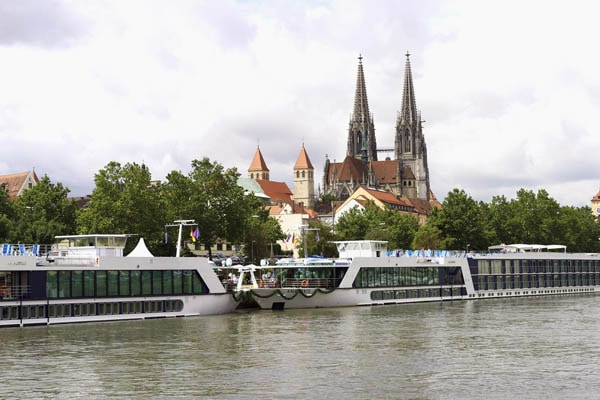 Enjoy Award-Winning Cuisine on AmaDante Book AmaWaterways AmaDante Now!
Imagine watching amazing scenery float by as you watch from a bubbling whirlpool. On the river cruise ship AmaDante, you can. You'll also be delighted with large, comfortable staterooms, most of which offer French balconies. All rooms sport deluxe, hotel-like bedding, with down pillows and Egyptian linens, terry robes and slippers, free high-speed Internet access, a flat-screen TV with first-run Hollywood movies, and more.

Dining aboard AmaDante is exquisite, with award-winning cuisine served in the main restaurant and The Chef's Table Restaurant, with savory tapas and live nightly music in the lounge.

Like to stay active? Borrow a bicycle from AmaDante to explore, or participate in a guided bike tour. The walking track and fitness room are also available for working off amazing gourmet meals, and the massage room awaits when you want to decompress.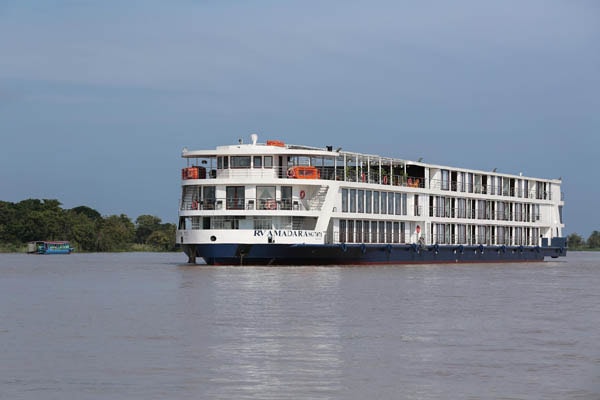 AmaDara is Your Key to Asia Book AmaWaterways AmaDara Now!
Love watching the shore from your own private balcony? How about tow? Your stateroom on the AmaDara features both a French balcony with standing room, as well as an outside balcony with room for a table and chairs for pure relaxation. Of course, the swimming pool and sun deck await your presence for your swimming and reading pleasure.

When you get hungry, dine in style at the main restaurant or the delights at The Chef's Table aboard AmaDara. If you're in the mood for a work out, the fitness center offers state-of-the-art equipment. There's always the pool if you'd really like to cool off, too.

Just because you're on safari doesn't mean you can't shop or get pampered. AmaDara sports a gift shop, onboard hair salon, and the Sadec Spa. Soothe your tired muscles and get coifed before a drink at Saigon Lounge & Bar or grand dinner at Mekong Restaurant.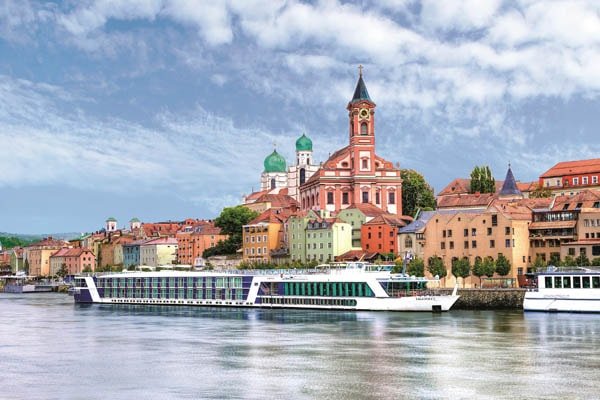 Enjoy the Good Life on AmaDolce Book AmaWaterways AmaDolce Now!
Cruising on AmaDolce is sweet indeed. With only 76 staterooms and suites, guests never feel crowded or rushed. Plus, rooms are stylish, modern, spacious, and above all, comfortable. All accommodations offer Egyptian linens, down pillows, a flat-screen TV/combo with free on-demand entertainment, free Wi-Fi, and more.

AmaDolce public spaces are just as wonderful. The lounge offers live music, tapas, and plenty of wine. Guests enjoy award-winning cuisine at the main restaurant and The Chef's Table Restaurant, as well as tapas in the lounge paired with live nightly music, wine, and cocktails.

The whirlpool on the sun deck of AmaDolce is the perfect way to unwind after a long day in port. Want even more relaxation? Book a massage at the spa, decompress in the sauna or fitness room, or get coiffed at the salon.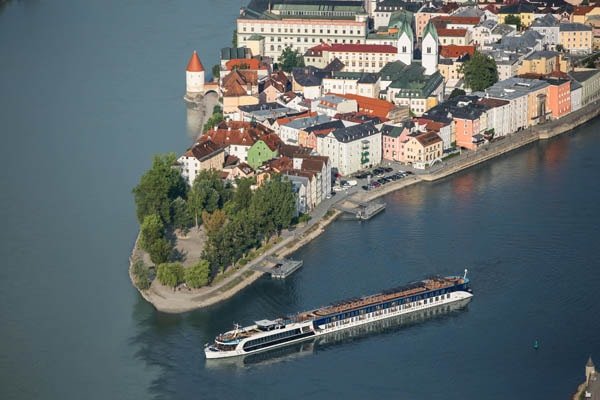 AmaKristina is Luxurious and Innovative Book AmaWaterways Ama Kristina Now!
Whether you're new to river cruising or not, you can look forward to sailing aboard AmaKristina. Most staterooms offer lots of space and twin balconies, and all cabins provide a comfortable place to rest.

AmaKristina guests enjoy as much wine as they like at several venues aboard, tapas in the main lounge, and gourmet meals in the main restaurant, and at The Chef's Table. When it's time to relax, AmaKristina offers a sun deck and heated swimming pool with swim-up bar. You'll have access to complimentary Wi-Fi throughout the ship, as well as in-room Internet. Feel like watching TV or a movie? Entertainment on demand is yours to enjoy.

AmaKristina offers guided tours by bike, but if you'd like to explore on your own, you can choose from a whole fleet of bicycles. When you're onboard and want to walk off an amazing meal, take advantage of the walking track or fitness center.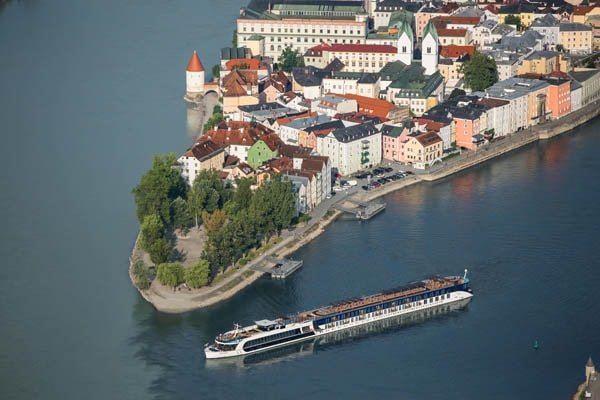 Enjoy AmaLea Book AmaWaterways Ama Lea Now!
AmaLea is one of the newest ships in AmaWaterways' fleet and is one of the most advanced river cruise ships ever. As the sister ship to the beloved AmaKristina, you'll kick back in style and comfort in your stateroom, with two balconies.

Want to explore land by bike? AmaLea offers a supply of bicycles ready for both guided tours and self-exploration. If you'd like to go for a relaxing swim, the pool awaits — as well as the fun swim-up bar. If you'd just like to feel the warm, inviting touch of the sun, the deck and comfy lounge chairs await. You'll also enjoy complimentary ship-wide Wi-Fi, in-room entertainment on demand, and an onboard fitness center and spa.

Hungry? When it's time to dine, enjoy exquisite cuisine aboard AmaLea at The Chef's Table, main restaurant, and savory tapas in the main lounge — with as much wine as you like.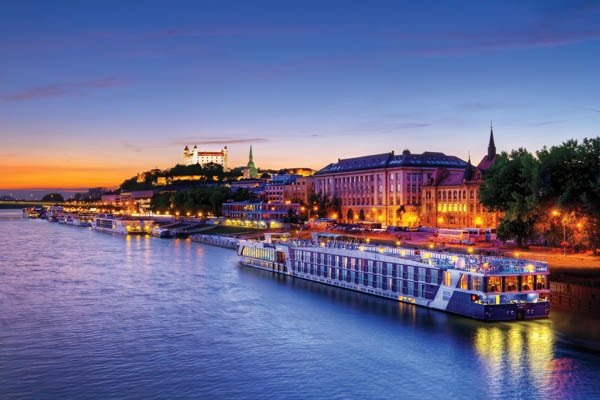 AmaLyra is a Symphony of Cruising Book AmaWaterways Ama Lyra Now!
A river cruise aboard AmaLyra is an exceptional experience. From the fantastic service to the spacious and modern stateroom, guests are consistently wowed. Staterooms and suites alike all offer generous bathrooms with multi-jet showerheads. Also standard are Egyptian linens, flat-screen TVs and computers with free on-demand entertainment and Internet access.

Guests sailing AmaLyra enjoy public areas just as much. The whirlpool on the spacious sun deck is a wonderful place to unwind after a guided bike tour in port. If you want to relax even more, the massage room awaits. Like to stay active? Enjoy the fitness room or walking track.

Live music plays nightly on AmaLyra in the lounge, which also serves up drinks and tapas. For full meals, the main restaurant and The Chef's Table Restaurant serve up award-winning cuisine.
AmaMagna is Modern Luxury Redefined Book AmaWaterways Ama Magna Now!
Guests sailing aboard the beautiful AmaMagna enjoy so much more than just a vacation. This vessel is the largest river cruise ship to sail the Danube, more than twice the space of the traditional river cruise ship. It also boasts an open-water sports platform with canoes and zodiac boats.
Most staterooms provide over 300 square feet of the elegance and comfort that AmaWaterways is known for. Carrying just 196 passengers, AmaMagna guests feel pampered with lots of room to breathe in public areas as well. The ship provides several bars and dining spots for hungry patrons, such as an al fresco glass-enclosed restaurant where there's not a bad seat in the house.
AmaMagna also promises more onboard activities and evening entertainment to keep the vacation going. When not enjoying time in port, guests flock to the heated sun deck, complete with whirlpool, swimming pool, and a sky bar.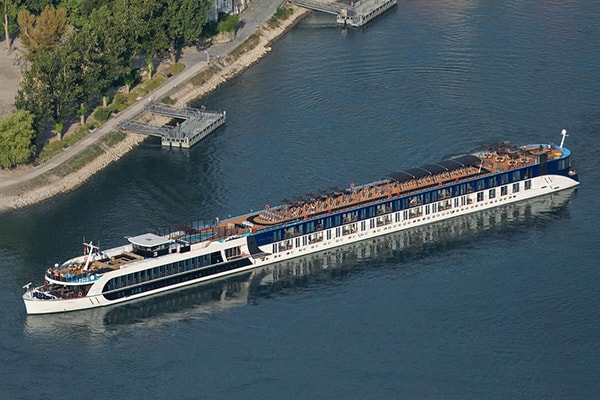 AmaMora Offers Yacht-like Luxury Book AmaWaterways Ama Mora Now!
Passengers cruising aboard AmaMora always have a reason to celebrate. Bicycles, tours, wine, beer, Wi-Fi, and soft drinks are included with every AmaWaterways itinerary. Of course, there are even more comforts to be had aboard this well-appointed ship.
Spacious staterooms aboard AmaMora provide a lovely home-away-from-home in tasteful hues. Most cabins offer the luxury of twin balconies for double the view! The sun deck offers a heated pool and swim-up bar for the ultimate in relaxation. There's also a salon and spa, specialty coffee station, and gift shop.
If you relish the finer things in life, you'll love AmaMora, which belongs to the exclusive culinary society La Chaîne des Rôtisseurs. This simply means that you can look forward to lots of options, menus, and award-winning dining with cuisine inspired by your ports.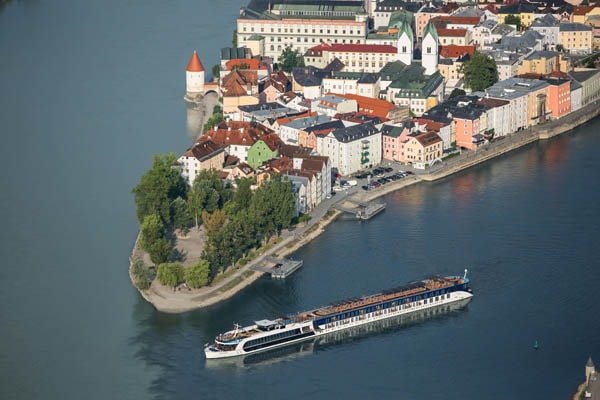 Life's a Symphony on AmaPrima Book AmaWaterways Ama Prima Now!
AmaPrima strives to make river cruising fantastic.

When it's time to enjoy a little sun, ride the sparkling glass elevator to the top deck of AmaPrima for some relaxation. Or soak in the heated pool and enjoy the free-flowing wine as you watch the sights pass by.

Staterooms and suites aboard AmaPrima are richly decorated and spacious. You'll enjoy not one balcony, but two, as well as Egyptian linens, first-run Hollywood films, free Internet, and large showers.

If you like to keep moving, AmaPrima offers a state-of-the-art fitness center. Explore port on a complementary bicycle in your leisure time, or take a guided tour. Get those tired muscles soothed with a massage, and then enjoy award-winning, gourmet cuisine al fresco or in the main restaurant.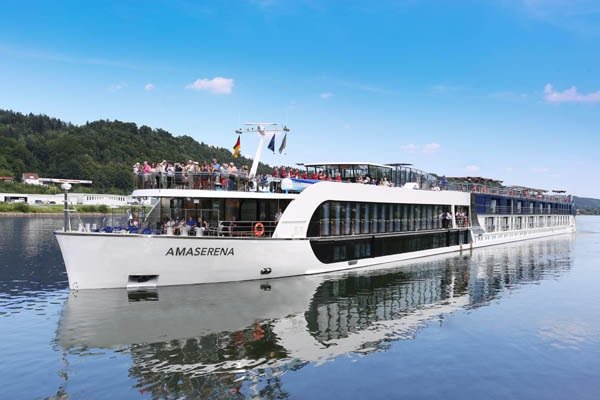 Enjoy Impeccable Service on AmaSerena Book AmaWaterways Ama Serena Now!
Imagine seeing castles and historical landmarks while you lounge in a heated pool and enjoy a relaxing drink at a swim-up bar. Aboard an AmaSerena river cruise, you can. With just a 164-guest capacity, AmaSerena offers plenty of space in both comfortable public spaces and staterooms.

In fact, staterooms are luxurious, with twin balconies that allow you to experience as much scenery as possible in privacy. Egyptian cotton bedding, shower jets, complimentary Wi-Fi, and entertainment on demand are all yours to enjoy.

Before dinner, treat yourself to a massage and haute coiffure at the spa and hair salon aboard AmaSerena. Feast on decadent gourmet cuisine and revel in your good fortune before sailing to your next port.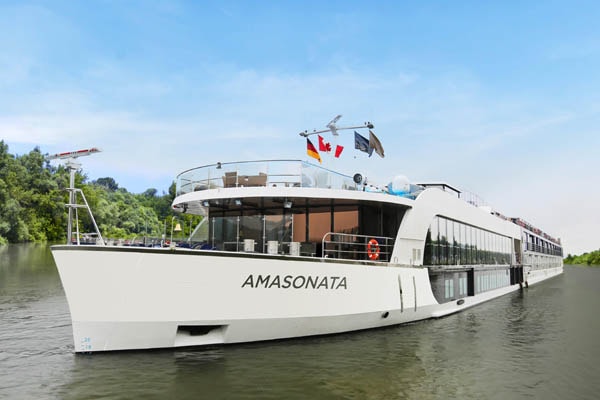 AmaSonata Welcomes You Book AmaWaterways Ama Sonata Now!
The friendly, welcoming staff of AmaSonata will make sure your river cruise goes as smoothly as possible. Special extra touches the spacious staterooms, such as shower jets and Egyptian cotton bedding, will pamper you after a long day exploring historic ports and sites. You'll also enjoy twin balconies, entertainment on demand, and complimentary Wi-Fi in your comfortable stateroom.

Dining aboard AmaSonata is a celebratory experience. Award-winning cuisine varies daily, whether served in the main dining room, Al Fresco Dining Terrace, or The Chef's Table. You can expect the wine to flow freely at every lounge and restaurant, too.

Feel like relaxing as you sail to your next destination? AmaSonata offers spa services, a salon, and a heated pool with fun swim-up bar.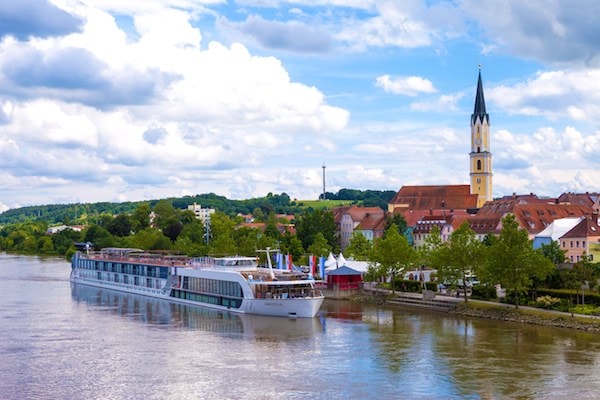 AmaStella Boasts Comfort and Space Book AmaWaterways Ama Stella Now!
Guests board the AmaStella for a superior river cruise that also features innovative design. As the sister ship to the AmaSerena, AmaStella offers refreshing twin balconies in most staterooms. Spacious suites offer 350 comfort square feet.

Passengers enjoy fresh, gourmet meals and endless wine pours at several venues aboard AmaStella, such as The Chef's Table Restaurant. Feel like going for a swim as well as a drink? The heated pool by the sun deck offers a fun swim-up bar. If you'd just like to relax, the spa offers a wealth of services.

For those who like to keep busy, the fitness center is stocked with state-of-the-art equipment, and there's a collection of bicycles for self-exploration or guided bike tours.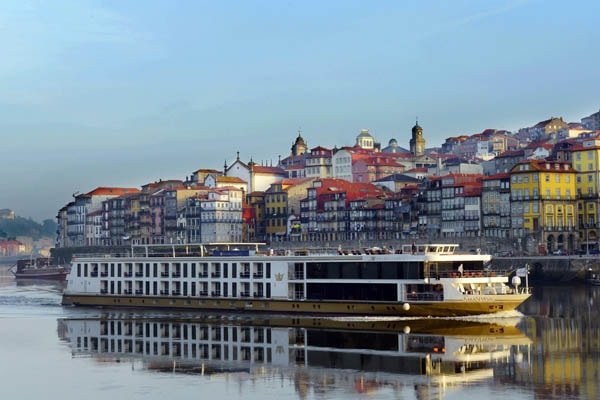 Relax Aboard AmaVida Book AmaWaterways Ama Vida Now!
If you've ever dreamed of sailing down a historic river completely uncrowded, AmaVida is the ship for you. The vessel only carries 106 lucky passengers and offers plenty of space to spread out in spacious staterooms, many of which offer balconies for scenery gazing and relaxation.

AmaVida suites offer up to 323 square feet of luxury, and all rooms have Egyptian bed linens, complimentary Internet, a 42" flat-screen TV with entertainment on demand, multi-jet showerheads in generous bathrooms, and much more.

When you're not in port, decompress at the spa or go for a run in the onboard fitness center. Go for a swim as the sun sets, or hang out and watch the scenery from the sun deck. Hungry? AmaVida staff serves up exquisite fine dining in both the main dining room and al fresco patio.
AmaViola Offers Flawless Cruising Book AmaWaterways Ama Viola Now!
For the discerning river cruiser, AmaViola fits the bill and then some. Guests are often surprised with special touches to make their stay all the more memorable and exciting.

Of course, AmaViola guests also enjoy a host of fine dining options, which offer creative, award-winning cuisine. Menus rotate so that mealtime is varied and never boring. There's plenty of space to spread out in staterooms, especially those that boast lavish twin balconies, so you can enjoy as much fresh air and scenery as possible.

Additionally, AmaViola staterooms pamper guests with Egyptian cotton and down bedding, spacious showers with jets, entertainment on demand, and so much more.